On December 4th, we were delighted to win The Scottish Public Service Awards' Third Sector Partnership accolade with Glasgow City Council. The Third Sector Partnership Award recognises the achievements of the MCR Pathways programme and its impact on care-experienced young people in Glasgow. The award was hosted at a ceremony in Edinburgh's Holyrood. 
Now, in its sixth year, the Scottish Public Service Awards celebrate excellence within Scotland's public services. The Awards are held in association with the Scottish Government and Scottish Parliament and recognise the rich diversity of public life in Scotland and the vital relationships working together across the country.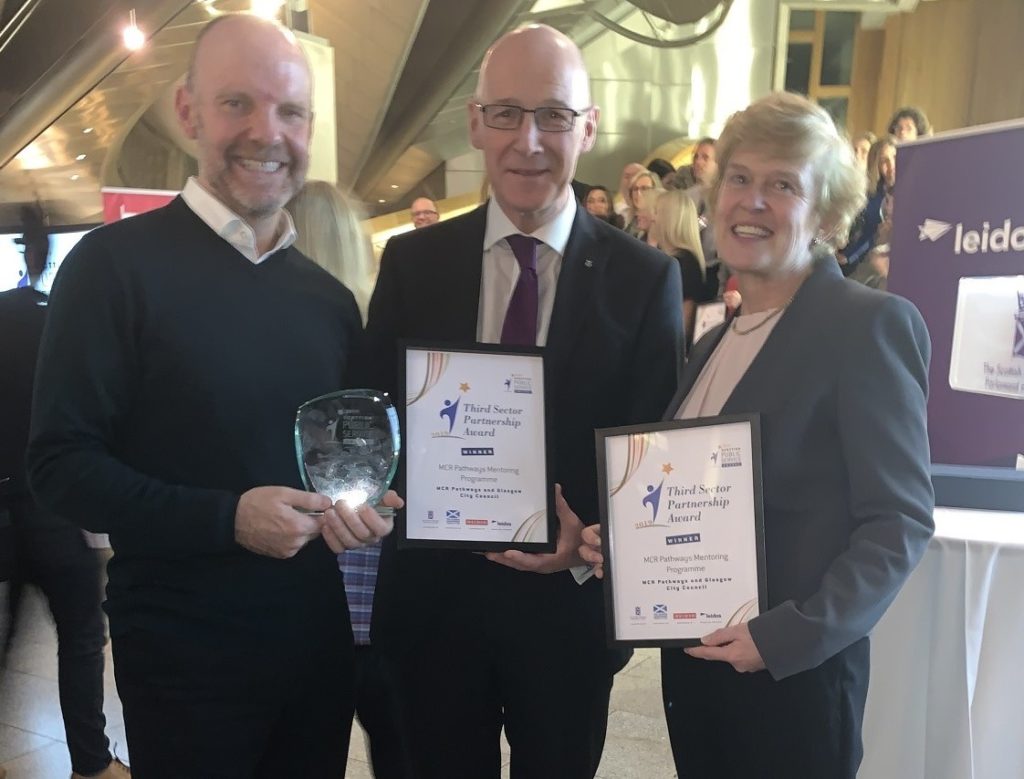 For more than a decade, we've been working with Glasgow City Council to develop a model that creates lasting change for our most disadvantaged young people. This didn't happen overnight; it took years of trial and error to create a system that works. Mentoring is about partnership, but most importantly it's about the relationship that develops between a young person and their mentor – this is what makes all the difference.
Mentors meet their young person for just one hour a week, building a relationship and providing support, confidence and self-esteem thereby helping young people find, grow and use their talents. 
The impact of mentoring is radically transforming life chances and education outcomes for Scotland's most disadvantaged young people. Prior to the introduction of mentoring in Glasgow secondaries, just 54% of care-experienced young people left school to a positive destination – college, university or full-time work – starting adulthood on an uncertain path. Since the introduction of mentoring, 83% (three year average) of mentored care-experienced young people have left school to a positive destination. Our goal is to reach every care-experienced young person and ensure they have the support they need to truly thrive.
Iain MacRitchie, founder of MCR Pathways says:
"We are thrilled to have won The Third Sector Partnership Award recognising our work with Glasgow City Council. 
"With the support of Glasgow City Council, and other local authorities throughout Scotland, MCR Pathways is currently helping over 2,000 young people every week and the whole team is delighted that the positive impact of our work has been recognised by this prestigious award.
"Our MCR model now has a body of evidence to show the deep and lasting benefits for all participants, including young people, schools, organisations, mentors, and larger communities."