Throughout the vast majority of 2020, we've heard of the impact COVID-19 has had on the economy, businesses and schools from experts in these sectors. With these topics leading the mainstream news, the focus largely being on the macro impact of lockdown. We believe that there has been a key viewpoint missing. Light hadn't really been shone upon a group who rarely get the chance to have their voices heard: Young people.
At the tail-end of July, we published the results of our lockdown survey, where we heard from over 1,000 young people. In-light of these results, Dawn*, a pupil from Drumchapel High School, has written her thoughts on lockdown and the survey results in an open and honest reflection. Her voice, and the voices of all young people, matters. These young people, who have missed vital school time, will be the ones most affected by the pandemic and only by listening to them can we properly support all young people. This is what Dawn says.
"I lay awake, yet another night as the constant and continuous worry of emotions spiral around in my head like a tornado in the worst of all storms. The reality of it all is that we are not able to see beyond the presence of what we are being told. This leads us into distress and causes impact to our mental wellbeing as well as our sleep routines and patterns as time ticks on.
"I believe in the 66.8% of those who are left feeling anxious and stressed due to the unknown outcome of lockdown. It's hard to imagine what life would be like after all of this, but as many people have told me: "Nobody knows what the future holds," which is true, however it doesn't exactly resolve the sleepless nights and routines which are affected. Evidence supports that a total of 89% of us have had our sleeping patterns impacted due to lockdown. In most cases, sleepless nights come as a result of our impacted mental health. I, for one, haven't been able to close down the thought of the thousands of to-do lists which are stacked on my desk along with applications and forms necessary for college.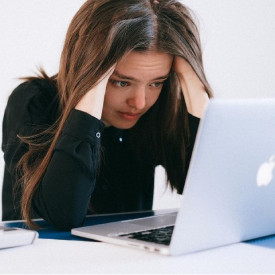 "Lockdown has also been proven to have an impact for those returning back to school, as well as the progress of schoolwork where most pupils are 'used' to having people around to explain it face-to-face, making it harder for them to seek help with schoolwork. When I was in need of completing past papers and coursework for subject purposes, I too found it difficult and a little distressing not having someone to talk or guide me through what I was to do. According to statistics, a total 76% of young people are worried and showing concern for being behind on schoolwork. Similarly, 75% are requesting one-to-one time with their teacher as a way of catching up due to the impact of lockdown on school education.
"As lockdown continues, I believe it is likely to impact the lives of all us young people. Especially those of us who were unable to participate in our exams, are unable to be certain as to whether we are provided with accurate grades in need for moving forward into our next year of school or moving to college or university. Over 79% of young people are worried due to the consequences of lockdown about their grades and what this will mean for their future as well as 62% of school leavers expressing worry for what to do next. Either way, the lives of young people are being affected in more ways than one by lockdown restrictions, but if we think about it, it all links together, with our mental distress caused by the return of schools and the unknown future."
A big thanks to Dawn for being so open about her thoughts and feelings on lockdown and opinions of the recent survey. We are hopeful that now, as schools return, young people will receive the support they need to fulfil their potential.
Of those who took part in the survey, 82.2% stated that meeting with their mentor again would help them as they transition back into school full-time. In fact, those surveyed told us:
"Lots of young people are struggling with mental health and don't have any support so I think it would be good to be able to set out a support system where people can meet a mentor or MCR Pathways Coordinator face-to-face while following the rules."
"I really appreciate having my mentor at this time. I think everyone should have mentors."
"I've had so much support from not only my mentor, but my Pathways Coordinator as well. Even if it's just having a little chat once a week to see how I'm feeling, it's made such a difference to my last year at school and also made me learn a lot about myself."
Dawn is just one of the many young people, from all over the country, being supported each week. These talented young people are helped to realise their true potential and achieve everything they can in life.
To #BeTheBridge and make the world of difference to a young person's life, become a mentor today!