William heard about MCR Pathways through his work at Glasgow City Council, where he works as a Technician – Roads Maintenance in the Land and Environmental Services Department. He enjoys working with young people and previously volunteered at a local youth project. It was the opportunity to build a one-to-one relationship that encouraged him to sign up to become a mentor.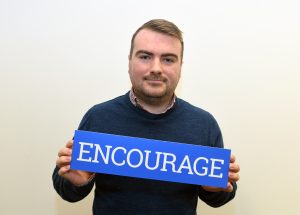 What was it like getting ready to be a mentor?
"During the process of becoming a mentor, the MCR team were really helpful and the training/information sessions were very informative. The way in which the team takes time to get to know you as a person, your hobbies, your interests is brilliant and incredibly useful when pairing mentors and mentees."
Why did you choose to become a mentor?
"I have done a lot of voluntary work at a local youth project. Having been a youth at this very club, I feel that it helped me throughout my teenage years. Coming from a not so affluent area, the other options to spend a Friday night weren't so savoury. Being a leader at a youth club with so many young people gave me the opportunity to help steer youths away from teenage peer pressures and stay safe. I think the idea of a young person having a third party person to speak to, who has no real influence in any other aspects of their lives, is a great way to speak to someone without judgement."
What have you gained or enjoyed most from being part of MCR?
"I feel I have gained good experience in how to communicate with a young person in a one-to-one situation. I've also learned just how different school is compared to my time, although I have only been out of school for 8 years. I enjoy that my mentee and I have similar interest, which makes it really easy to maintain conversations.
The thought that I may be helping change a young person's life in ways I may not even see or understand has got to be the most satisfying aspect of being a mentor with MCR  Pathways."
What would you say to someone who was thinking about becoming a mentor?
"Give it a go! There is no need for past experience. There are so many young people that would benefit unbelievable amounts by having a mentor who don't have the opportunity yet."