Thank you everyone who joined us for our Leadership Through MCR Mentoring seminar at the City Chambers. Last night, we brought together the world of business and our young people for a truly inspiring evening focused on the amazing difference mentoring makes. More than 100 attendees joined us to share this opportunity for corporate social responsibility and hear why our panel of professional leaders are encouraging their colleagues and staff to mentor.
"What's surprised me about mentoring? I thought it was going to be good, but it turns out it's great." – Suzanne Burns, HR and Communications Director for STV.
We believe that it takes the whole community to make true, sustainable change AND that the voices of young people need to be a guiding path for this change. But mentoring is a relationship, which by nature is give and take. Our seminar showed that mentoring is not only something organisations do to the benefit of young people – volunteering in fact brings enormous benefits to staff and workplaces. Truly powerful relationships make both parties more motivated, committed and resilient. This evening was about showing why mentoring matters 2 our young people and the ways mentoring matters 2 the workplace.
So why are so many busy professionals getting involved? Because mentoring builds confidence, opportunity and leadership while making a transformational difference to young lives.
Young People Leading
The night was opened by Kieran with a rousing speech,
"Mentoring Matters 2 me because it meant I was no longer alone. It brought some fun back into my life and an escape when personal challenges threatened to overwhelm me"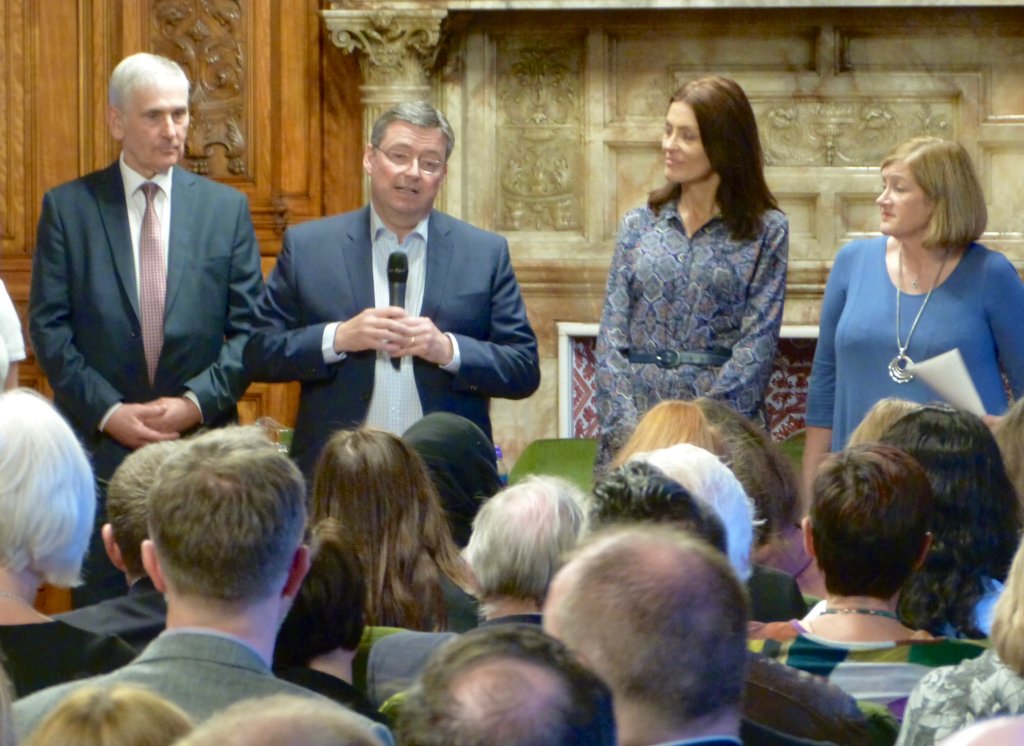 On our panel Bill, another mentored leaver, told us his story about how mentoring has changed his life. 
"I've gained so much from the programme but there's so much more to say about what I've lost: fear, insecurity, instability. So when I think about the impact it's had on me I think it's stripped away the things that were holding me back and emphasised the best parts of me. Its provided a friend or, as my mentor Mary calls herself, 'an educational granny' who supports me no mater what. Before I was insecure, sad and alone and now I'm standing here before you."
The evening included two panels, which included mentors:
Ken Lindsay, International Brand Ambassador for Chivas Brothers
Dr Stephen Breslin, Chief Executive of Glasgow Science Centre
Sharon McIntyre, Financial Inclusion Innovation Manager at Wheatley
Scott McCroskie, Managing Director at The Macallan Whisky
David Kaye, Partner at Harper Macleod LLP
Roslynn Mackay, Co-owner and Finance Director of Frame Group
Duncan Tannahill, Chair for Scottish SME and Previously CEO of Glasgow Chamber of Commerce
Suzanne Burns, HR and Communications Director for STV
Diarmid McBride, Group Head of People at Allied Vehicles Ltd.
Our expert panel also included some of our Young Ambassadors and mentored leavers who were asked by our young people about how mentoring has impacted them.
Closing with a Civic reception, mentors, young people and attendees mixed and chatted over a glass of wine while they discussed the highlights of the evening.

It's a Wrap!
It was a fabulous evening, with lots of productive conversations and our young people inspired our audience. In keeping with the business focus on the evening, here are our three main takeaways from the evening:
Real progress can only be made when the different parts of our community – business, education and public sectors – AND young people come together.
Taking time to give back to the community as an organisation doesn't take away from business but is actually revitalises organisations. Mentoring fosters staff development and instils vital leadership skills.
It's essential that businesses listen to the voices of young people. To build a better future for all our young people, we need to hear their voices right now.
#MentoringMatters2
While also making a transformational difference to Scotland's next generation, mentoring provides first-class personal development. Find out more about the programme and why Mentoring Matters 2 our society, community and mentors by watching our short film and visit our website to get involved.