By Louise Walsh
MCR PATHWAYS is an award-winning mentoring programme which links disadvantaged young people with a mentor who is there to offer emotional support during what we all know can be a difficult time in a young person's life.
It's one of the most accessible volunteering opportunities in Scotland because you don't need any sort of previous experience or knowledge. MCR mentors are given fantastic training and ongoing support.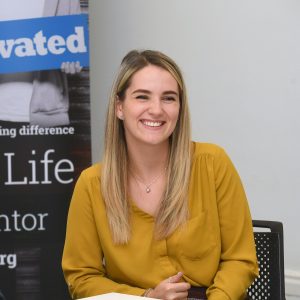 When I mention mentoring, some people say that they would not know what to talk to the young person about. Some think you need to have children of your own (you don't), or some sort of teaching experience (again, you don't). You're not there to be another educational influence on their life, or to act as a stand-in parent. All you need to be able to do is listen … and we can all do that.
"On the surface my mentee and I don't have much in common, but that isn't a hindrance. In fact, it actually helped as it meant in our first few sessions we just talked about everything and anything under the sun, from TV shows to the perfect pepperoni pizza proportions to what actually is Brexit anyway? We laughed and I told terrible jokes – which she's now asked me to stop (I haven't) – and generally just got to know each other. In fact, it was a few months before we actually discussed anything to do with school or her own life but, because we'd laid the foundations, it felt like the most natural thing in the world."
All a mentee needs is someone to listen. You don't need to have had the same experiences in life, you just need to be willing to try and see things from their point of view, and then do your best to support them.
"I've been meeting my mentee for nearly three years now, and she'll be leaving school this year after her sixth-year exams. When we first started meeting she wasn't sure what she wanted to do after school – and I'm chuffed to say that she's now got three conditionals for universities across the city."
It's been almost 15 years since I went through the UCAS application process but I remember how overwhelming it felt, and knowing that I can be there to offer help and support to someone in the same situation is really special.
"Our journey together hasn't been easy. Like any other relationship, it's had its ups and downs – but it has been so worth it to see her confidence grow and support her through this crucial stage in her life."
Becoming a mentor with MCR Pathways takes just one hour a week during the school term – that's less than 40 hours a year. It's so easy to waste hours scrolling through newsfeeds on your mobile, or watching mindless TV programmes – could just one of those hours be better spent with a young person who needs your help?