Whitehill Secondary School in Glasgow's East End is bustling with activity on the day we came to visit. Pinned on the bulletin board just outside Headteacher Pauline Swan's office are photos of MCR Pathways young people – during Talent Taster events and the 2017 Duke of Edinburgh Award ceremony. There are mentors visiting their young people and Pathways Coordinator Sharon is busy preparing her S1/S2 groupwork lesson plans. While the programme has only been in place for a little over a year and a half, MCR has already become a vital part of the school's community.
MCR Pathways connects disadvantaged young people with volunteer mentors to help them find, grow and use their talents. For these youngsters, it can be difficult to do well in school when home life is chaotic. Mentors, however, provide these young people with extra support that can help them reach their full potential.
Whitehill Secondary Headteacher, Pauline Swan, sits down with us in her office and shares her initial impressions of MCR and the effect it's had on care-experienced pupils,
"We were aware of MCR and were delighted when they approached us. We had a specific vision for the school: to raise engagement and improve young people's life chances – MCR was a perfect partner for that."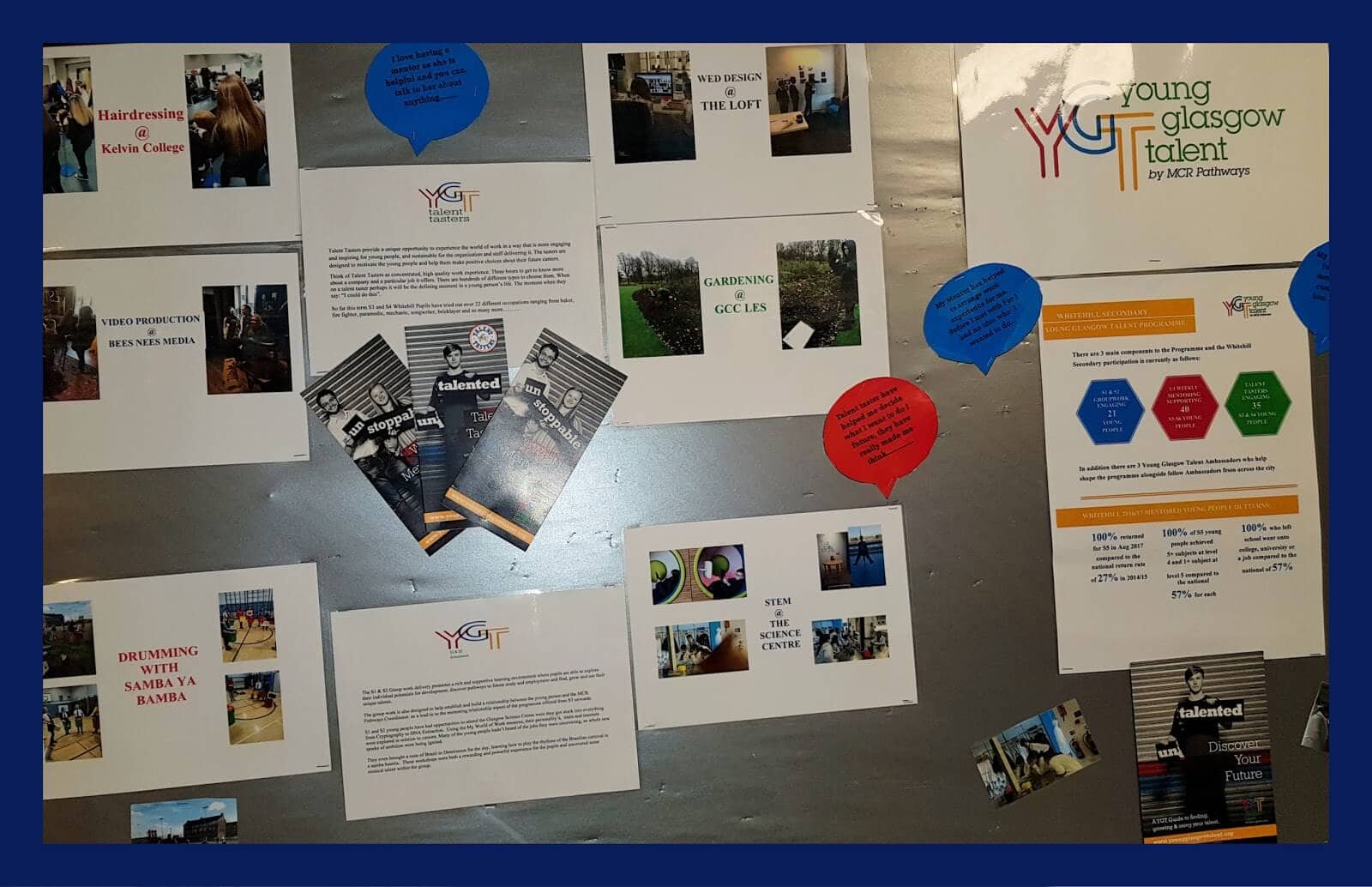 "The actual work and engagement that they've done has surpassed our expectations. Every young person who has engaged with MCR has had their attainment improved and their rates are actually higher than the national average. And each and every one has either stayed on at school or moved to a positive destination."
The impact of MCR has spread beyond its immediate community of young people, mentors and MCR staff. It's influence can be felt in the entire school, Pauline shares,
"For the whole community, it comes down to the meeting every young person's needs. While the programme targets specific young people, it has an enormous impact on the whole school. Attainment is a big factor, the MCR young people have seen their attainment rates improve so we've now got more children operating at higher levels. This lets us build more opportunities into the timetable and that's had an affect on the whole senior phase."
"They're role models now. Other young people are asking to get a mentor because they see what's being achieved and that's appealing to them."
---
Chatting with a group of pupils in a common room, we heard firsthand why they decided to get involved. At first, for many of the young people in the Whitehill Secondary MCR programme, they weren't quite sure how to interact with their mentors, but now they never run out of things to talk about.
Several say that their favourite thing about having a mentor is simply having someone who listens to them,
"It's great to have someone to talk to, I feel like I can tell him anything."
One S3 pupil is eager to be matched with a mentor,
"I'm excited 'cause I've talked to her a couple of times – they've come to a session or two. We get to pick what we like in a person. I think that gives us more of a connection with them. It will be good to have a talk with them about college."
Another girl shares how her mentor and the Talent Taster career programme has given her a clearer idea about what she wants to do in the future,
"I didn't know what it was actually like to do makeup for a job beforehand. Doing something is better than just reading about it."
---
For the mentors at Whitehill Secondary, the word that comes up again and again is relationship – the value building a relationship through one-on-one meetings and just listening to their young person.
Allan, a retired engineer, spoke of the turning point in his relationship with his mentee,
"The first boy I had wanted to be a fireman. I knocked on the fire station door and organised a conducted tour. No one had done anything like that for him before. So that was my foot, literally, in the door with him. This positivity from you just feeds into them and comes back tenfold."
Building that trust takes time and effort, but, as Michael explains, a big part of creating the relationship is consistency,
"My young person often didn't turn up to school because of pressures at home. I always made it clear that I'd be there, that someone was there."
Mentoring builds confidence in young people and confidence is the foundation to their success. Robert shares how mentoring has influenced him,
"It's been an honour and a humbling experience having your young person come up and tell you that a lot of what they've been able to do is because of what you did."
An essential part of the mentor relationship is the larger MCR community working hard in the background. Whitehill's MCR school coordinator, Sharon, is there everyday providing guidance for the pupils and mentors alike. She, as mentor Allan describes,
"epitomises MCR Pathways, she removes that barrier between the teacher, the pupils and us." Another mentor, Moyna, agrees, "I think she is the glue that holds it all together."
As we get ready to leave for the day, Allan sums up the value of mentoring, concluding,
"They say there's no such thing as a free lunch, but actually there is. You're getting something for nothing here, it's not costing anything and the rewards you're getting for it, they speak for themselves."
Can you #GiveAnHour? Visit our website and Get Involved
Whitehill secondary is a six-year, coeducational and non-denominational school situated in the East end of Glasgow. The Whitehill Support Centre is an integral part of the secondary school and supports young people from across the City who face particular challenges in attending school. The school also has a unit which provides support to a small group of pupils in the Broad General Education with Additional Support Needs. In the 2016/2017 school year Whitehill's role was 427 with 56% of pupils in SIMD levels 1 and 2.