Breaking down the 2019 policy changes that impact care-experienced young people
2019 has been a landmark year for those with experience of the care system in Scotland. Across government and education, there has been a wave of policy changes all designed to better support care-experienced young people and care leavers. These policies reflect the growing awareness that the impacts of growing up in care don't end when a young person turns 18.
In this article, we'll help you better understand the state of care in Scotland. We'll break down these major policy changes and help explain what they mean for young people. We'll also explore where we think change is still needed.
At MCR, we are determined to erase the education and life chances gap that exists between care-experienced young people and their peers. All young people are talented, but those with experience of the care system face disruptions that make it harder for them to reach their potential. Through working in partnerships with local and national governments, schools, and organisations of all sizes, we're working to create a fairer Scotland.
Article Sections
You can click the section to jump down in the article:
Why Policy Change is Needed
Chaos at home, lack of a supportive family structure and poverty leave their mark. Compared to others, care-experienced young people have a much harder time getting the most out of their education and this follows them throughout their live.
By starting out their adult life on unstable footing, a large percentage of care-experienced young people continue on a pattern of insecurity and simply don't realise their potential. However, there is a lot being done to change that. In the next section, we'll help break down these policies and changes.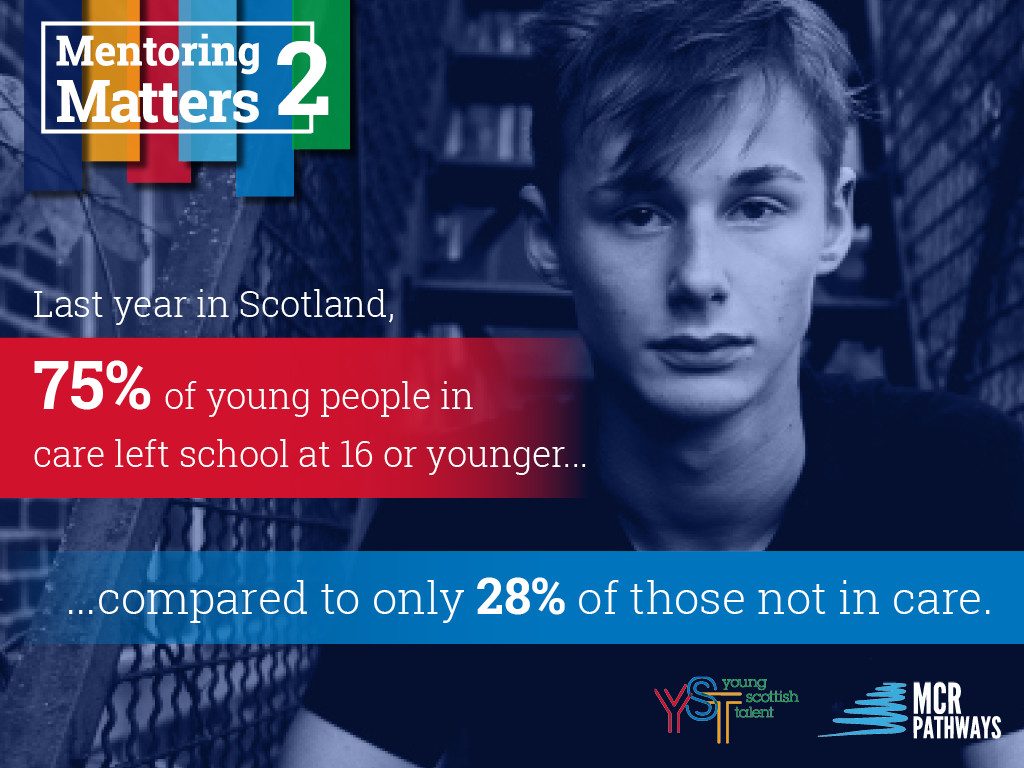 What does it mean to be care-experienced?
The term 'care-experience' refers to children or young people who have spent any time in the care of their local authority. The terms 'care-leaver', 'care-experienced' and 'looked after' are often used interchangeably, with care-experienced increasingly being the preferred terminology.
Extension of the Care-Experienced Bursary
Studying at Higher and further education is expensive. First introduced in 2017, the Care-Experienced Bursary was designed to reduce this burden. Delivered by SAAS, which also offers a Care Experienced Accommodation Grant, in 2018 and 2019 this bursary was extended to widen support and make it easier for more care-experienced young people to continue their education.
Quick facts on the Care-Experienced Bursary
Changes to the Care-Experienced Bursary
In 2019, the Scottish Government announced that they are removing the 26 age cap on the bursary, acknowledging the challenges that many care-experienced young people face reaching Higher or Further Education. 
Why this Matters
By removing the age cap, more care-experienced people will be able to attain the qualifications they need to create a successful career and won't be penalised for delaying their education for reasons outside their control.
Further and Higher Education Minister Richard Lochhead said, "Supporting care-experienced people is a key aim and our analysis shows the removal of the age cap will benefit hundreds of prospective students from next year."
Additional Reading
SAAS Information about funding for care-experienced young people
Letter from John Swinney, Deputy First Minister and Cabinet Secretary for Education and Skills
Scottish Government announcement of bursary age cap removal
Widening Access to University
Care-experienced young people are just as talented as their peers, but the disruptions many face make it harder to achieve the qualifications they need to gain a university place.
As our workforce increasingly modernise and adapt, university degrees are increasingly important. In 2018, 41.1% of all school leavers progressed to university while only 4-5% of care-experienced young people did. In 2019, Universities Scotland, an organisation representing Scotland's 19 High Education institutions, committed to changing these stats.
Changes
Widening Access to University
Starting in autumn 2020, all care-experienced applicants who meet minimum entry requirements will be guaranteed a university place. Beginning in 2020, Scottish universities will be introducing new minimum requirements for care-experienced individuals and those living in SIMD20 postcodes. These requirements will be institution and course dependent.
Why this Matters
To create long lasting, effective policy for care-experienced people they must be the ones directing it. They understand what works and the challenges and barriers better than anyone. However, the roles that have the power to affect policy change require Higher Education degrees.

Care Reform
In Sept 2019, the Scottish Government released their plan for government and made a clear commitment to care reform as central part of their plan. Using feedback from the soon to be published Care Review, the Government has pledged to bring in new policies that better support care-experienced people after they've left care.
The Scottish Government has pledged to:
Care Reform
Extend eligibility for free NHS dental care to care-experienced people between the ages of 18 and 26.
Launch our new Job Start Payment, ensuring that care leavers will get this help if they are receiving a qualifying benefit, without having had a period of unemployment.
Remove the age 26 cap on the care-experienced student bursary in time for the start of the 2020-21 academic year. 
Extend entitlement to funded early learning and childcare provision to 2 year olds whose parents are care-experienced. 
Create a new statutory provision in favour of brothers and sisters who are taken into care being placed together where it is in their best interests.
Scotland's universities guarantee offers to care-experienced applicants who meet minimum entry requirements.
Why this Matters
The impact of growing up in care can stay with young people throughout their lives. However, by providing employment, healthcare and other support, the more challenging impacts can be minimised.

How MCR is Directing Change & Policy
At our core, we believe that transformational and long-lasting for care-experienced young people and adults can only happen when they are leading the conversation. Their voices and experiences are paramount. This has been in MCR's DNA since we started working in our first school in 2007. Young people have shaped our programme, telling us what works and what doesn't. We've since supported them to play a direct role in influencing Scottish care policy.
How MCR Young People are Affecting Change
MCR young people shared their experiences of living in care and the impact of MCR with the First Minister Nicola Sturgeon as part of the 1000 voices campaign

They shared their experience growing up in care and advised on improvements to the Scottish care system with Fiona Duncan, Chair of the Independent Care Review

They consulted with the Scottish Government on the

15-24 Learner Journey Review exploring the impact of mentoring and Talent Tasters on their own personal learner journeys

In 2018 & 2019, young ambassadors created and directed MCR's national conferences, sharing their vision of change to an audience of more than 500 educators, policy makers, organisations and mentors from across Scotland
Care-Experienced Young People Talk Policy
MCR's Vision for the Future
In 2019, the Scottish Government and universities have committed to care reform and improving support for young people after they've left care. While we commend these policy changes, there is still work to be done.
In his article in the Scottish Journal of Residential Child Care, MCR Founder, Iain MacRitchie draws from his experience working directly with young people and transforming outcomes to outline MCR's vision of change.
MCR systematically brings together ideas and groups from across our communities to find solutions. When young people lead, and professionals, organisations, schools and policy makers work together, anything is possible.
We feel confident to make these policy recommendations – knowing the current state of care and where it needs to be – and recommend the steps that need to be taken.
Our young people tell us to get on with two policy areas in particular:
Corporate Parents need to directly support care-experienced young people's education. 
As corporate parents, they have a mandate to create support plans for  care-experienced people, but efficacy varies drastically. Through encouraging staff to mentor and creating a mentoring culture, corporate parents will adopting a model proven to reach an unprecedented number of care-experienced young people.
Widening Access must start before young people leave school
While new minimum admission standards acknowledge that care-experienced young people's school results don't always reflect their talents, it doesn't fix the root issue. Our Higher Education and Further Education institutions must engage care-experienced young people while they're in school to make them ready and feel accepted at college or university. By supporting staff to mentor and offering tailored experiences, they can make college and university more welcoming to care-experienced young people.
MCR Pathways sees a future where care-experienced young people have the same outcomes and life chances as any other young person. This is the only acceptable vision for the future and we won't stop until we have reached it.
2019 policy changes and pledges are steps in the right direction and we are excited to have played a role in their making. However, young people must be more involved in creating that future. Our leading institutions must be directly working with young people to make this future possible. We believe mentoring is an essential part of that solution.
This future is within our grasp, together we can support care-experienced young people to create it.
About MCR
MCR Pathways is a Scottish, school-based mentoring programme supporting those in or on the edges of the care-system to realise their full potential through education. The programme operates in across schools in 9 local authorities. MCR supports more than 2,000 young people each week. Our vision is that every care-experienced and disadvantaged young person in Scotland gets the same education outcomes, career opportunities and life chances.