Sarah is a stay-at-home mum to two sons in Fraserburgh, Aberdeenshire. She has an interest in learning and, as a result, has earned an MA degree in Literary Studies and an MA in German Studies. 
She heard about MCR Pathways from her local newspaper and was impressed by what she read.
Sarah wanted to find out more and get involved in the programme. After attending an info session she was quickly matched with a young person. This is her story.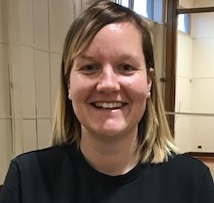 "I heard about MCR Pathways in my local newspaper – there was an article about the organisation and information about how to apply to be a mentor. I was very impressed by the work that MCR Pathways undertakes and knew that I wanted to be involved. I liked the thought that by volunteering for just an hour a week, I could have a huge impact on a young person's life."
Like any other new experience, Sarah was nervous when she first began her mentor training, but the school's Pathways Coordinator, Gill, made everything so much easier. Sarah says:
"I was quite nervous before I began the mentor training – I wasn't sure what to expect at all. However, as soon as I met Gill, my nerves eased. She was extremely positive, encouraging and her passion for MCR Pathways was and still is infectious. After speaking to Gill, I couldn't wait to get started! The training was excellent and I have always felt well-supported."
Once Sarah was matched with her young person and they had numerous meetings, the change she saw in her mentee was wonderful to see. From an increase in confidence to being involved in more activities, it's been hugely rewarding for both Sarah and her young person. She explains:
"My mentee was extremely shy and quiet when I first met her. She also found it hard to form and express opinions of her own. Since meeting with her weekly, her confidence has slowly grown. My mentee will now happily chat away to me about school, family life and future plans. She has also started taking part in extra-curricular activities e.g sports after school and helping out at a youth club. I am so proud of her!"
In addition to seeing the positive change in her young person's life, Sarah gained a great amount of satisfaction and pride from giving one hour per week. She shares:
"I feel like I am doing something worthwhile with my spare time – I really enjoy helping other people and I feel like I am making a difference through MCR Pathways.
"I love seeing the change in my mentee every week. The most enjoyable thing about being a mentor is spending just one hour a week with a young person and seeing for yourself the positive difference that you can make to someone's life."
After seeing the great difference just one hour per week can make on a young person, Sarah has some words for anyone who's interested in becoming a mentor:
"Do it! I would definitely encourage people to become a mentor. You can make such an impact to a young person's life, and at the same time enrich your own life by doing something worthwhile."
If you wish to become a mentor, please click the button below.