After raising her two sons, Aberdeenshire Council's Sandy wanted to continue being there for young people. 
So when Banff Academy's Pathways Coordinator, Karen Smith, presented the MCR programme to staff at the council headquarters, Sandy knew this was something she wanted to do.
She learned that mentoring would give her the opportunity to to help a vulnerable young person gain confidence in their abilities and achieve everything they possibly can in life.
She felt her life experiences would be useful to help someone who may be in a similar situation that she was in at school, as Sandy explains: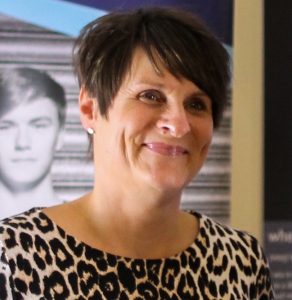 "I wanted to become a mentor because, during my school years, I was bullied at various points. Not majorly, but, it was by both boys and girls. I had that connection and I felt like I could help someone if they were going through that as I've got that experience. I had a great school life, but it was because my dad caused a fuss about [the bullying], but not all kids have that parent behind them saying, 'Right, we're going to sort this out.'"
After going through the process of becoming a mentor, Sandy was matched with an S3 pupil at Banff Academy. Ever since they started meeting in November, things have been going from strength-to-strength between the pair. Sandy's noticed a great change in her young person's personality. She says:
"When I first met her, she was very shy and quiet, but now we spend most of our time laughing. We have similar interests and that was really helpful from the matching process. She's doing well at school, she's got her report in and she's working to a level above her age for a few subjects. I went home and told my family and asked "Guess what she's doing?" as I was really excited for her. I then told her the next week that "I'm so excited for you." I think she's really pleased with that.
"She's come out of her shell and even physically, she seems to have changed. We've got a common interest in baking, so we often talk about food. I have started to focus the conversation, a little more each time, on her plans for the future and how she would get there. Just drop that in as we can't all just talk about cakes all day. I'm looking forward to seeing what it's going to bring for the both of us, but more so my young person."
Even though Sandy has a family of her own, a house full of pets to take care of and a full-time job, she still finds the time to give just one hour a week to her young person. Here, Sandy shares how she does it:
"I fit mentoring into my working week, every Tuesday, I get out of my lunch hour, come up to the school! We do discuss the cakes and everything else, so there's no escaping the sweet treats!"
In addition to her mentee gaining confidence and improving her grades, Sandy has also benefited from developing skills of her own. Sandy explains:
"From being a mentor, I've really gained listening skills, for sure. Sometimes at home it's flagged up to me that I don't listen so much. So, it's great that you just let them speak to you and then you're exchanging stories."
As Sandy and her young person have been meeting for over four months and things have continued to get even better, Sandy has some words of advice for anyone who is thinking of signing up to become a mentor:
"I would definitely recommend the MCR Pathways programme to other people and I definitely have. A lot of people tend to get caught up during the day as they're just focusing on their work and they don't take a break, as I was. Hopefully more people are signing on the dotted line."