Robert Hutton-McKee works as a CBS Business Support with Glasgow City Council and also mentors a young person for just one hour a week with MCR Pathways.
After hearing about the programme and its impact on young people at work he was immediately interested in getting involved.. Recently diagnosed with Asperger's Syndrome, he wanted to play a part in supporting a young person.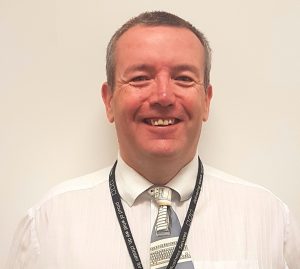 He shares, "I was a good student with a university degree, though I did have problems. I have no kids of my own but I do have a desire to help other young people."
He signed up online and before he knew it, Robert was matched. He describes how he felt before walking into his first meeting with his young person.
"In a word: scary. I was nervous and unsure, but the Coordinator helped a lot and the training provided by MCR Pathways helped as well, not just the meetings but talking to other mentors that really helped.
The two quickly bonded over their shared interests. Robert tells us: "I found he was very political, as I am, and so we developed a good relationship quicker than I expected."
Robert's mentee also has Asperger's Syndrome and was struggling with his attendance when they first met. He explains: "He had no desire to do anything beyond school and were a bit standoffish at first."
But that changed as their meetings progressed. Each week Robert looked forward to their chats. "He is a delight to mentor, he is not a popular person and so as I got to know him and see how he is improving and developing and I also gained an insight into his character."
Over time his mentee began thinking about his future in new ways. He began talking tentatively about going to college, first to Robert and then to his teachers.
When asked to compare how his mentee was when they first met compared to now, Robert tells us the change has been dramatic. 
"He improved in attendance, even meeting every week over the summer break. Now he wants to go to college and has got a place he starts this month."
In addition to the changes he's seen in his young person, Robert explains that he's also learned many new skills through mentoring:
"I certainly developed an ability to talk to young people and hear what they are saying and I really look forward to the meetings."
When asked what he would tell his coworkers about mentoring, Robert didn't hesitate: 
"It works, it's easy. You and your mentee will gain many new skills and both change in a way. All from 50 Minutes a week."