Reni is a bright and confident student working on an HNC in musical theatre at New College Lanarkshire. She dreams of working on the stage. She just got a weekend job working as a bartender and is excited to be trying new things and figuring out what she wants to do in life.
But she wasn't always this confident. While in secondary school at St Mungo's Academy, she struggled to engage with classes. Reni lived with her gran, who was quite ill. As the primary carer, she often had to miss school to take her gran to appointments. She struggled with balancing her caring duties with managing her course load.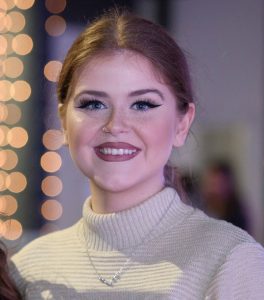 In her 6th year of school, she joined the YGT programme and was matched with a mentor who supported her to finish school and apply to college. We spoke to Reni about her mentoring experience.
What was it like before you had a mentor?
"I really didn't like school. I had really bad attendance and I didn't like a lot of the subjects. But I stayed until sixth year because I needed to get the grades. There was also stuff in school that I didn't really get done because I was busy with my gran.
At home, my gran was really unwell with the Australian Flu at the time. She was taking sleeping pills and really delirious, so at times she didn't know where she was."
What was your mentor like?
She was really really nice, I think she was from Edinburgh. She was studying politics at uni and she was in her early 20's. We talked about anything really, it was really laid back.
What did your mentor help you with?
"When my gran was unwell it was good for my mentor to be there. I could just speak to her about it, like she was really understanding. It was weird, but a good weird. It was literally like a stranger, but not a teacher so I didn't have to worry about getting into trouble or like saying something wrong."
What was your favourite part about being mentored?
"It was just meeting and being able to speak to somebody new, a new friend. She had never met me before and didn't have any previous knowledge, so she couldn't judge me for anything. It was nice just being able to speak about anything."
What would you say to a mentor who was thinking about getting involved?
"I think it would be a really good experience, cause you're helping a young person who might really need it. You don't need to have the best advice in the world, you just need to be there for somebody. It's literally you just giving your own advice."
What's your goal for the future?
"I just want to be involved in theatre. Even if I'm behind the scene pulling the curtains. I just love the vibe of just being there, I love it."