MCR Pathways, a national award-winning mentoring programme, has been awarded the Silver Award in the Community Business of the Year category at the SME Hertfordshire Awards 2023. This incredible achievement reflects our commitment to making a positive impact in our community and our dedication to the mentoring programme.
The SME Hertfordshire Business Awards are a celebration of outstanding businesses that go above and beyond in their respective fields. They are a great opportunity to support and raise the profile of industrious and hardworking small and medium-sized enterprises (SMEs) in Hertfordshire. The Community Business of the Year category was created to celebrate both Community businesses and Not-for-Profit organisations that focus on positively benefitting society.
MCR Pathways is a Glasgow-founded charity that began its journey in Scotland and has since expanded to South East England; Hertfordshire in 2021 and Surrey in 2023. Currently, the charity works with over 400 young people across 11 schools in Hertfordshire.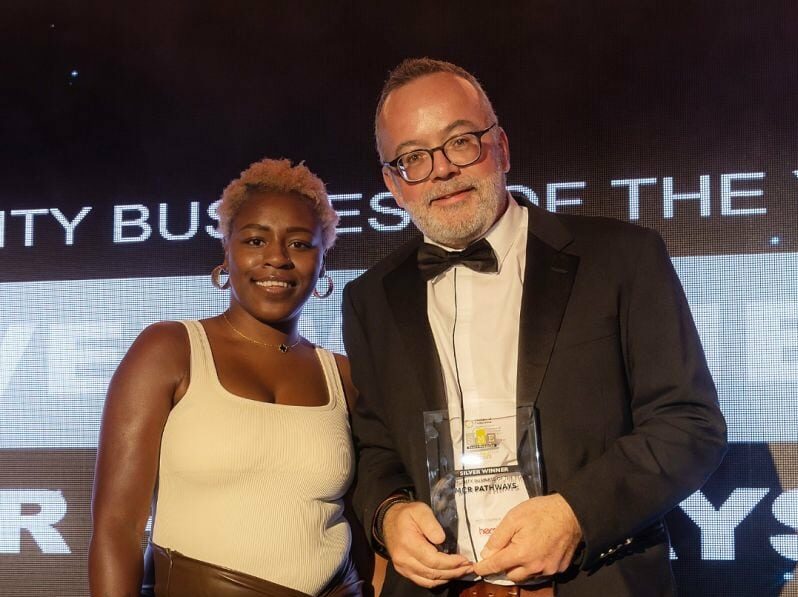 After collecting the award on behalf of the Hertfordshire team, Peter Hopkins (Mentor Recruitment Manager, Hertfordshire) said: "We are absolutely thrilled and delighted to be recognised by the judges as a Community Business of the Year Silver Award winner.
This award is testament to the hard work being carried out by every member of our team, dedicated to supporting the young people participating in the Young Herts Talent programme. From the Pathways Coordinators in the schools, our Programme Management team, Mentor Services, Mentor Recruitment, and Regional Leadership, to our wonderful volunteers who generously contribute their time to mentor and positively transform the life of a young person.
Our collective commitment revolves around delivering equal educational opportunities and improving life prospects for all our young people. However, we are aware that there is still more work to be done, particularly as we expand the programme to reach an even greater number of disadvantaged young people."