Written by Catriona Stewart
SCOTLAND'S most disadvantaged young people have been "locked out" of education during lockdown, according to the founder of a charity mentoring school pupils.
Iain MacRitchie, founder and chairman of award-winning MCR Pathways, said research carried out by the charity showed 70% of the organisations mentees did not do any school work in the first lockdown.
And he said one-to-one support will be vital for young people to recover from the disruption of Covid-19 and thrive.
The charity yesterday received the backing of the Scottish Government announced as it announced MCR Pathways and charity Columba 1400 will benefit from a major £19.4 million funding pot to be used to support a six year mentoring programme.
The month before lockdown MCR Pathways published the results of a two year study looking at the impact of the scheme.
It showed 81.6% had progressed to university, college and employment versus a national number of 59.8%.
"So we were," Iain said, "On the crest of a wave.
"The analysis used world leading research methods, and that opened up dialogues with not just our government but other governments, other countries potentially… and then lockdown happened.
"But there was no way we were going to stop. We needed to keep the support going but we no idea how to do it."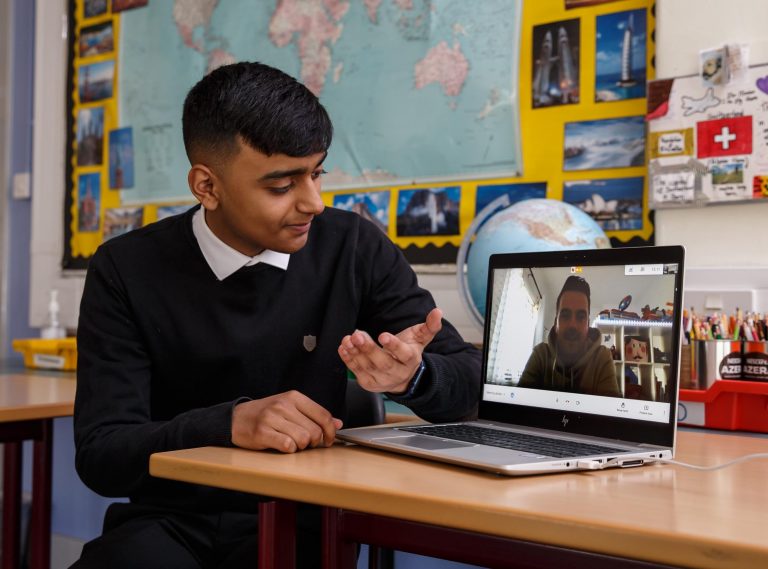 Photo by Colin Mearns
Set up in Glasgow in 2007, MCR Pathways matches a young person with a mentor who they will meet once a week for 50 minutes for at least one year, usually longer.
Like other organisations, MCR looked to move online with a virtual mentoring platform, but that raised questions about how to ensure the online resource was safe to use.
It was also vital, Iain said, to ensure that the young people had the final say in how the system was used.
Within two weeks a virtual platform was up and running and and within six weeks all staff with kitted up with the right technology to use it.
Some 300 laptops and unlimited data went out to the young people who needed them most.
Iain said: "It was phenomenal. Most importantly, we let the young people design it.
"We put it to the young people, how do you want to engage, and they surprised us.
"As adults, we may think the best quality interaction is video but not everybody is comfortable with that."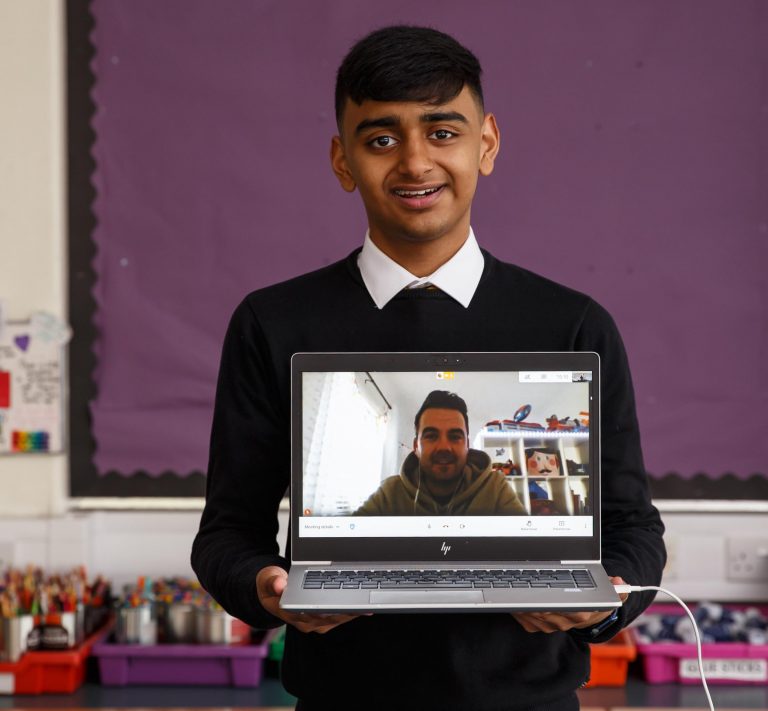 Photo by Colin Mearns
So, following feedback from the teenagers, the system gave a choice of video, audio, messaging, text messaging and even the physical exchange of messages through the coordinator.
Subject to coronavirus rules, all coordinators were kept in schools throughout the pandemic and young people were given a choice to engage or not.
Of the 2500 young people who take part in mentoring across 12 council areas, just under 2000 stayed engaged on the new computer system.
Despite the huge changes going on in the system, MCR continued to recruit mentors and new young people.
The charity also launched in new local authorities, such as Clackmannanshire, Shetland and Perth & Kinross as well as expanding to nine schools in Edinburgh and six in Aberdeen.
While juggling all of this, Iain said he was beginning to feel concern about some of the anecdotal evidence coming from some of the MCR young people.
The charity set up a survey and more than 1000 teenagers took part.
Iain said: "I was getting nervous about some of the anecdotes coming from our young people and what they were facing, and I wasn't seeing any mention of these issues in any of the recovery chats that were going on.
"Our survey was the biggest take from teenagers experiencing disadvantage saying exactly what they were going through and, more importantly, exactly what they needed when schools came back.
"The feedback absolutely shaped what we did in that first August period. And it also fed into government, local and national government, and the third sector."
Photo by Colin Mearns
Results from the study showed that 70% of young people did not do any learning during the first lockdown due to issues such as caring responsibilities and lack of equipment.
Some 50% of young people said they could not easily understand the information sent to them by teachers.
And, perhaps surprisingly, when asked what would really help them learn at home, 42% wanted hard copies rather than online resources.
Iain said: "It was very clear that schools needed to be full time. It was not just about education for our young people: schools are are safe havens, they are community hubs, they are where aspiration is made.
"Our young people weren't locked down, they were locked out and remain locked out of the chance for a better version of their future.
"When we asked what would help them the most, the top of the list was their mentor, closely followed by one to one time with their teacher."
As well as growing the reach of the charity throughout lockdown, Iain is adamant that MCR Pathways is a vital part of the covid recovery for Scotland's most disadvantaged young people
This year he wants MCR Pathways to reach 4000 young people across the country, eventually growing to 10,000.
Some of the technology developed rapidly during lockdown will be kept, allowing for a blended approach to meetings, both in-person and online, as well as giving the potential for support to continue during holidays and study leave periods.
Iain said: "We can be a massive part of post-covid recovery by putting in mentors, by putting in supportive staff to help those young people.
"We risk having a lost generation of young people and so you need a bit of hope, because hope will drive a bit of confidence. And once you have confidence you get aspiration.
"We've had a year of chaos but one to one support is the single most important way out of this for our young people, to make up for the deficit of what they have experienced."