Marking the one year anniversary of the Promise, created by the Independent Care Review, Fiona Duncan, the review's Chair, has appointed a new Oversight Board. Among the 20 board members is MCR Pathways' Founder and Chair, Iain MacRitchie.
As outlined by The Promise team, 'the Oversight Board is critical to ensuring that The Promise made to Scotland's children and families is kept. The Oversight Board will use The Plan to monitor the progress organisations make individually, and the progress Scotland makes collectively towards The Promise's key priorities to make sure Scotland will #KeepThePromise.'
The Oversight Board will report to the care community and publicly on the progress made and will use its networks, relationships and governance structure to provide support and guidance wherever necessary.
It will hold Scotland to account.'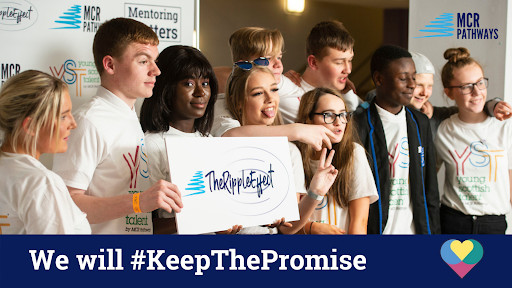 Upon the announcement of the board, Iain MacRitchie said:
"This is a fantastic opportunity to ensure that all our young people are determined by their talent and potential and never their circumstances. It is a privilege to serve as a member of such an inspired Promise Board and to help implement every part of the Care Review for this and every generation to come."
In 2020, the Independent Care Review outlined over 80 key recommendations to ensure the best possible support for care-experienced people in Scotland. YST young people were a part of this review, sharing their experiences with the First Minister and the Review's Chair Fiona Duncan.
The findings of The Promise strengthen our own vision that every young person in Scotland has the chance of the same education outcomes, career opportunities and life chances, no matter their circumstances. Mentoring is key to this and we are working towards it being an integral and permanent part of our education system.
You can read more about the Oversight Board here.