Following the launch of MCR Pathways in Longdean, Future Academies Watford and Haileybury Turnford, MCR are now supporting 541 young people in Hertfordshire schools across the county and over 5,000 young people across the UK.
MCR Pathways works, with schools, to identify and support young people who are care-experienced or experiencing continuous instability at home in order to facilitate an equality of educational outcomes, career opportunities and life chances. We achieve this through one to one relationship based mentoring and our success is measured through young people's: school engagement, educational attainment and post school destinations.
Our mentors are carefully selected, trained and matched with young people and are supported by our Pathways Coordinators based in schools. To see how transformational mentoring with MCR Pathways can be, please watch Emily's story.
We are keen to recruit more mentors to meet the burgeoning need of Herts young people. The benefits to organisations of enabling their staff to mentor a young person for one hour a week in term time for a minimum of one year are legion; staff turnover drops, staff productivity and wellbeing improves and companies benefit from staff who have been trained in active listening and have developed communication and empathy skills. Together we can improve outcomes for Hertfordshire's young people and organisations.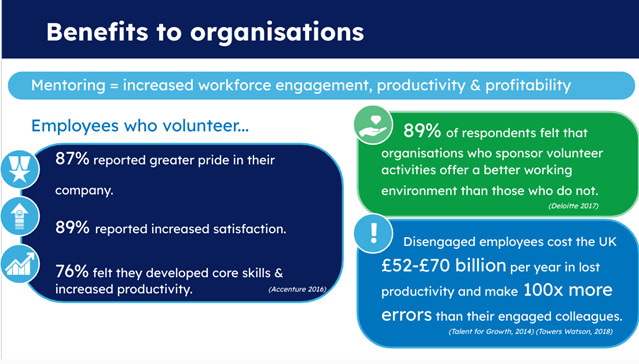 As part of the Skills Team at the Hertfordshire LEP, I heard about MCR when I was asked if I worked with any businesses that might be interested in supporting the programme.
As someone who is passionate about Careers Education and ensuring all young people have opportunity, I thought it was such a great scheme, that I too would like to become a mentor and the LEP was very happy to support this.
The hour that I spend with my mentee each week has become a really important part of my week. As the months have passed, I can really see how our conversations benefit them and give them an experience of talking to an adult that is not a teacher, a parent/carer or someone in authority but just someone who shows an interest in them. Our conversations have spanned all sorts of topics from friendship groups, behaviour, career choices and even fake tan! You don't have to be a specialist in any subject, just show an interest. For me, it does give me a sense of satisfaction, community and giving back but has also widened my views and how I see the world, particularly through a young person's eyes.
Managing the hour in the week is pretty flexible. I can't always do a set time each week so each week we decide what day and time the following week suits us both. At times I've had to change this due to a meeting or work commitment but it's been easy to change through the Pathways Co-Ordinator in the school. The impact on my work has been minimal. For anyone wanting to become a mentor or support an employee to become a mentor, I would strongly recommend it.