Mary Hunter Toner mentored William for four years. Her background was originally in Education, working as a Head Teacher before moving into the charity sector for 12 years. Her charity work was all about relationships, leading her to find out more about becoming a mentor with MCR Pathways.
"William was totally committed. He believed in himself and believed that he had the ability to do it and he worked hard. I couldn't be more proud of him."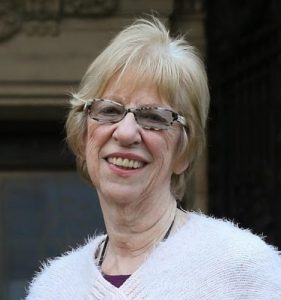 What is the best thing about being a mentor?
I think the best part was being in a relationship with a young person. I got as much out of it as William did. I've got two grown up sons, but they're married and have got their own families. We've got wonderful relationships, but they're now in their mid-thirties. I was working with somebody in their teens and that was just great.
What changes have you seen in the young person you mentor?
 The changes are huge. Initially, William was really anxious, which is understandable. At that point, he was very much lacking in confidence. He didn't think he was very good at school. He was really good at art and maths, but he thought that's where it ended. I didn't believe that and gradually, by the end of third year, he was beginning to see better results in other areas. There were lots of lightbulb moments along the way. I saw him start developing ambition. I was the driving force to an extent. Then for those last couple of years, he and I were working towards the same vision.
How has being a mentor changed or impacted you?
I do have quite a full life, but it was something that appealed to me and I can't believe the amount of satisfaction I got out of it. When William would get A's and B's in some of his exams throughout school, I would be as nervous as him waiting for the results because I had a huge involvement. I was so proud and overall it created another aspect of life which I really enjoyed.
What would you say to someone about becoming a mentor?
If someone is thinking about it, I would say absolutely give it a chance. I have now spent the best part of 5 years being involved. William talks about how much I did for him and how that changed his life, but it also changed my life.
You can read more about William and Mary's story, which was featured in The Herald, here.