FOR Liam Murray school was simply a place to sit during the day.
With a troubled family background due to his father's struggle with addictions, home life in the Glasgow suburb of Easterhouse was often stressful.
The situation became more acute when his mother left the family home and moved into a homeless unit with her five children.
A variety of different temporary accommodation followed before Liam was taken into care at the age of six when his mother decided she could no longer cope.
"It was scary. It was so far away from anything that was comfortable and it made me lose a lot of trust in people, particularly in authority. As soon as I got settled somewhere in one foster home it was time to move again," the 24-year-old said.
"It had a massive impact on my education. I was one of the pupils that just switched off. I went to school, but I just sat there the whole day not engaging with anything.
"I wasn't causing any trouble, but I just didn't engage. I didn't ask any questions, I wasn't interested in any of the subjects. I was literally arriving, sitting there all day and then leaving without learning anything. It was just a place I had to go."
Life began to change for Liam when his mother decided she was able to look after the family again and they moved back to Easterhouse together.
There was also the possibility of a fresh start with a move to St Andrews Secondary in Carntyne, but it quickly became clear he was well behind on his learning with a reading age of someone five years his junior.
It was at this point that Liam was identified as someone who could benefit from the MCR Pathways mentoring project, which supports pupils experiencing difficult circumstances, such as growing up in care.
Current MCR project director Donna Cunningham became Liam's mentor in 2007 and, as well as giving him the positive feedback he needed, she also suggested a taster session in construction skills which was to have a transformative effect on his life.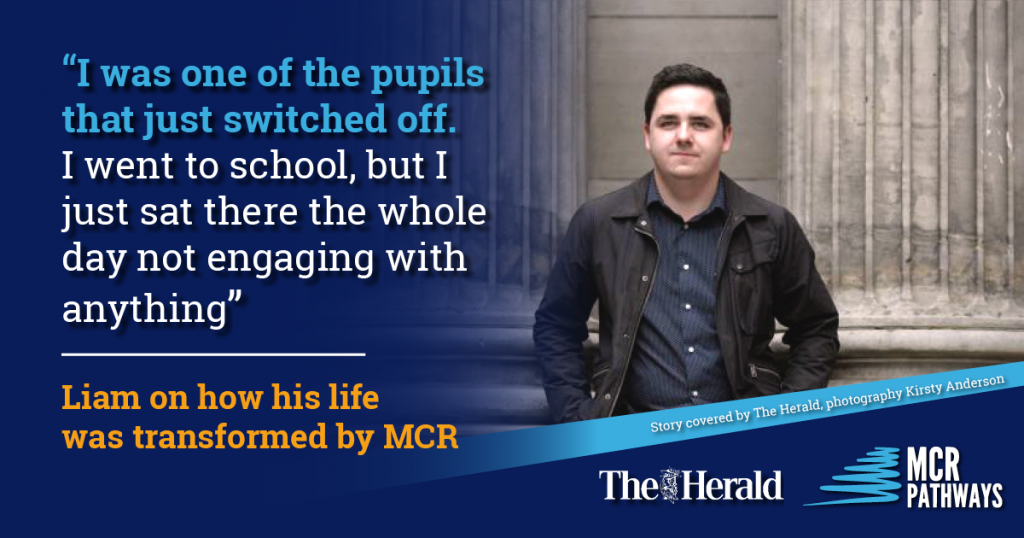 "I went to this course and absolutely loved it.
The joinery part was particularly interesting to me and I remember making a picture frame and learning all the basic techniques I needed to do that.
"Straightaway I knew I wanted a career in that area and that helped me to refocus on the qualifications I needed in order for that to happen because even though I didn't like maths I knew I had to do it."
After leaving school with a strong set of Highers, Liam was accepted by Glasgow Caledonian University to study building surveying and is now a graduate surveyor.
He also acts as a mentor for the MCR programme himself, helping to support a pupil at another Glasgow secondary school.
"Being able to talk to my mentor every week was brilliant. Other than my mum I had never had anyone like that to support me and without that I would have fallen down the cracks at school.
It's fantastic to be able to support someone else in the same situation and to see them find their own confidence and recognise their own talent."
Liam's story is one of many examples of success for the innovative MCR Pathways schools mentoring programme.
An evaluation of its work published earlier this summer shows the number of care-experienced young people staying on at school beyond S4 who took part in the programme was 79 per cent, compared to 36 per cent for those in care who are not mentored.
The number of mentored care-experienced young people going on to college, university or a job is 86 per cent compared to 50 per cent for those in care who are not mentored.
The impact assessment report states: "The education outcomes are exceptional when mentored young people's achievements are compared to national and Glasgow statistics for care-experienced young people.
"Impact is assessed over a range of indicators in attainment, post school destinations and well-being. The first key indicator is the staying on rate past 4th year.
"International research shows that the longer young people stay on at school past the statutory leaving age the better their longer-term outcomes.
Maureen McKenna, executive director of education for Glasgow City Council, who is also a mentor, said:
"The results have been absolutely outstanding.
"Continued high level of impact has been evident in staying on rates, attainment and post school destinations specifically into college, university or employment."
Glaswegian businessman Iain MacRitchie, who founded the programme, added: "The success of the model is based on committed volunteer mentors and we are immensely grateful for the motivation, commitment and resilience of our mentors."
He added: "They support their young person and attend schools weekly come rain, hail or sun. The impact is profound, but takes time as relationships and trust is built.
"Each of our young people is at a different starting point on their journey to success and the model allows for each young person to find their own way, in their own time."
Over the past 18 months, MCR Pathways has doubled the number of young people it supports to more than 1,000. It now operates in all 30 secondary schools within Glasgow City Council and recently launched in Aberdeen City and Aberdeenshire.
The charity is now working on a national plan, which will see its reach extend to other Scottish local authorities.
#GiveAnHour
Each week, all across the city, volunteer mentors are meeting with their young person for one hour to provide a supportive, listening ear. The relationship they build is key to helping young person build the confidence they need to reach their dreams. There are still 750 more young people hoping for their very own mentor. Can you give an hour? We'd love for you to get involved  today!