Kev is a Training Officer with the Scottish Fire and Rescue Service in Banff. After hearing about the MCR Project from family and friends, he was keen to volunteer.
After a simple signup process, Kevin became a mentor at Banff Academy and part of a support network for a young person in Aberdeenshire.
After initially feeling nervous about the first meeting, Kev shared that he now looks forward to meeting his mentee each week.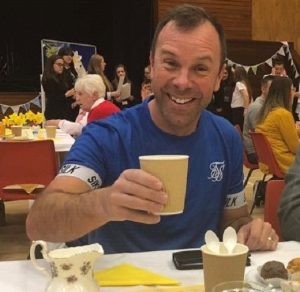 What was it like getting ready to be a mentor?
"It was daunting initially. However, after only several weeks in this has been one of the most rewarding experiences I have had.  Now, I look forward to our weekly meetings!"
How did you feel before you met your young person for the first time?
 "At first I was very nervous asking the questions, what will we say? Will we get on with each other? What will they be like? Will I like them? 
On meeting, all these questions were removed from my mind as it felt 'easy'.  There was never a time where we didn't have something to say or laugh at what each other was saying.  The anxieties I had felt were erased and it felt comfortable."
What changes have you seen in your young person?
"The first few weeks was our chance to get to know each other, our sense of humour, our likes and dislikes and any challenges we faced.  Now my young person opens up and is honest with me about how she is feeling, her school life as well as her peer group.  We discuss issues that are on her mind, but we always end our session on a high note, having a laugh and joke!!"
What would you say to someone about becoming a mentor?
"Go for it! You may not feel as if you can make a difference but you can. It's so rewarding and I love being part of this. Sometimes I think I actually gain more from it as it's not only meeting up with a young person, there are social events held by the Pathways Coordinator, resource centre you can access which is great for your own benefit and a family of other mentors to chat too. Being part of the school community also is beneficial as there are lots going on to get involved with."