Achieving the Duke of Edinburgh award is no walk in the park. Founded in 1956, the Award (often shortened to DofE) is the world's leading youth achievement award. Focused on personal development, young people must complete four sections: physical, skills, volunteering and, most challenging, the expedition. 
The DofE is recognised around the world and is a great addition to a CV, showing determination, commitment and endurance. However, this is a challenge not often offered to our young people and we wanted to change that.
When we began supporting DofE in 2014/15, just one Young Scottish Talent young person completed the award. This year, a record breaking 111 pupils completed their award, including 8 Silver and MCR's first 3 gold winners. We are so proud that so many of our young people have completed this challenge and we know they will carry this accomplishment with them their entire lives.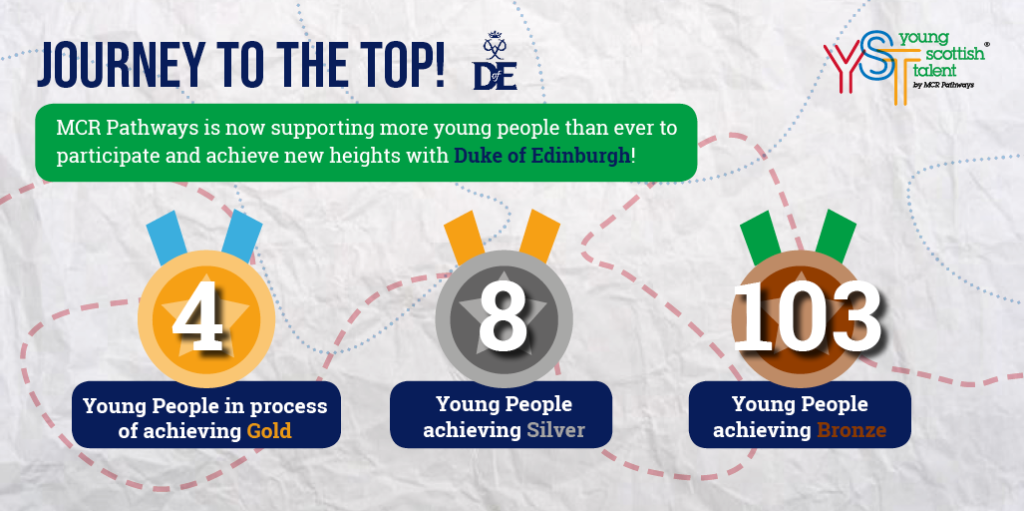 Read on to hear the special stories of two MCR young people who faced particularly difficult challenges but overcame them to get their bronze award!
Summer & Kady's Road to the Duke of Edinburgh
"At first I thought, 'I'm not really into the outdoors and stuff', but I am actually into the outdoors! So I thought 'Ok let's try and give it a go, try and push myself a little bit."
Summer, an S4 pupil from a Glasgow secondary school who is visually impaired, was inspired, yet definitely daunted by the challenge of completing the Duke of Edinburgh Award.
She was offered this opportunity through the MCR Pathways programme in her school.
Alongside creating relationships between young people and volunteer mentors, the programme also encourages young people to go outside their comfort zone and explore nature through fully-funded Duke of Edinburgh places. In addition to completing the DofE Bronze, Summer also meets weekly with her mentor.
Working in partnership with the schools, MCR's DofE scheme is improving accessibility for disadvantaged groups.  This includes a focus on supporting care-experienced young people and those with additional support needs – such as Summer – through the Bronze Award.
The charity facilitated Summer's expedition by designing a tailored route that could be traversed by following sound cues, allowing her the same opportunity to practice her navigation skills as the other participants. Before joining the DofE programme, Summer had never been camping before.
Summer's mentor, Lilian Marshall (right, with Summer), was pleased, if cautious, when she heard that Summer wanted to try such a daunting expedition.
"She'd hurt her knee just prior to the practice expedition and we didn't know whether she was going to be able to do it. So to have got over that, to have accomplished the practice, that was amazing." says Lilian.
Summer says the final expedition had its ups and downs – the food was better than expected but the group were plagued with bugs. Early in the expedition, there were some arguments amongst the group.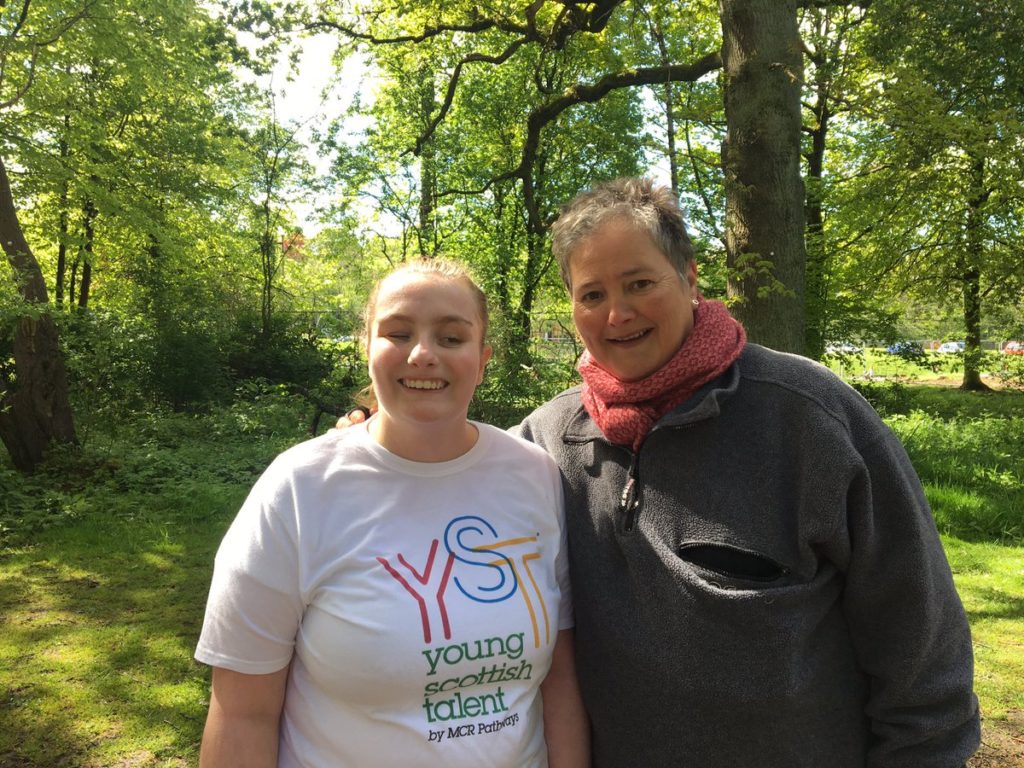 "There were tensions as well, because I kept wanting to stop, and give myself a minute. But other group members were saying "right we need to get going" but I was like "no… I can't, etc., etc." Don't get me wrong, I never cry but on the qualifier, I had to cry because it really hurt." says Summer.
Summer was unwilling to give up and the group soon banded together to give her support. She says that there were a lot of challenges but she learned a lot about herself as a result of the expedition.
"I actually said to the teacher, "I want someone to come and get me, I can't do this." But people were driving me forward, going "come on we've got this!" […] Yeah, I think I thought I was a weak person but I had to do it, so I saw that I have a negative side and a positive side.
Lilian believes that Summer is underestimating herself.
"I am in awe of Summer and what she does. I think for her to have completed the Duke of Edinburgh is absolutely amazing, because to go out into an unknown place and walk and have total trust in Mrs Dougall, who was Summer's leader, with a rucksack on your back, I think is nothing short of amazing," she says.
Summer is not the only young person with additional support needs who is succeeding through their involvement with MCR and the DofE Award. Kady is a Glasgow S4 pupil who has cerebral palsy.
Ashleigh Donaldson, the school's MCR Pathways Coordinator, has observed some of the obstacles that Kady has faced through her time at school. In addition to mobility difficulties caused by her condition, Kady has sometimes struggled to stand up for herself in the past.
"Kady a lot of the time," says Ashleigh, "through no fault of anyone at school or any fault of her own, finds that she's not one to speak up very much and will sort of let things pass her by and not challenge anything."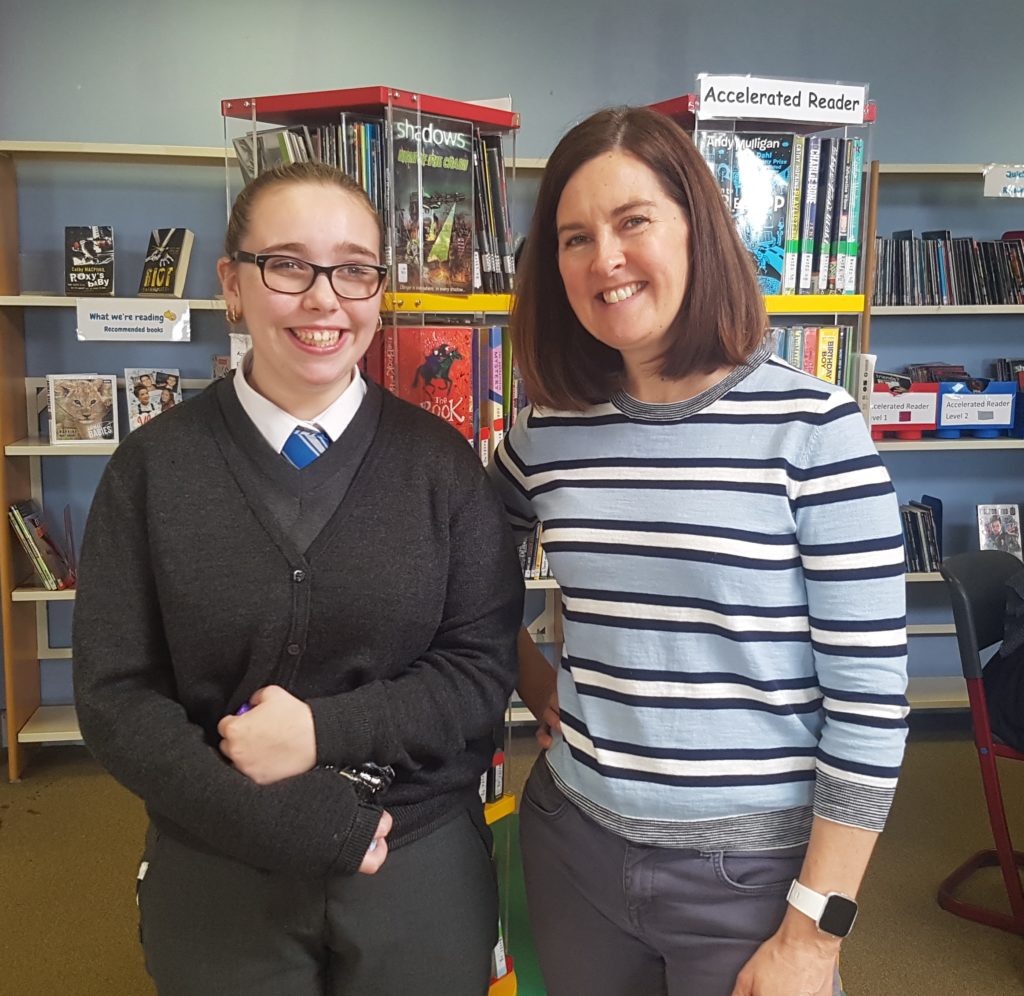 Over the course of the programme, Kady (left, with her mentor) became more empowered and resilient. Ashleigh says that she noticed a great change in Kady's confidence as she completed the volunteering, physical and skills requirements alongside weekly sessions with her mentor Alison.
Ashleigh is keen to emphasise the positive impact MCR is having for the young people who are involved.
"I don't think Kady would have been given the opportunity to do Duke of Edinburgh if it wasn't for MCR Pathways because we could make specific adjustments for her and her condition – that includes the route that we took, where we stayed and camped and what she had to carry on her back. There was much consideration given to Kady because ultimately we're supposed to be inclusive and that's what MCR's about as well."
From dog-walking to charity fundraising, Kady completed all kinds of activities as part of the programme.
"I would never say anything before. If people asked how I was feeling, I would say 'fine' but I'm really not." says Kady. "I say it a wee bit more now so [Allison] helped me with that."
Kady also had doubts about her ability to complete the expedition. The already difficult task of hiking intensively for two days was only made more challenging by her mobility issues and a previous knee injury. Kady and the team stayed upbeat by documenting their trip through personal vlogs.
"We would just laugh, and vlog and that would boost us up. We kept each other's spirits up."
Kady says that the whole experience has helped her relate to others and socialise more.
Ashleigh is very positive about the impact of the Duke of Edinburgh. She believes it is vital to encourage children to explore the outdoors and make strong friendships in the insular modern age.
"I think it's really important, especially with the rise of social media, that young people explore the outdoors and are given the opportunity to do so. Too many young people spend so much time indoors on their computers and phones. The Duke of Edinburgh experience was a great opportunity for the young people to bond, because they're five young people who wouldn't normally be the best of friends in school. The experience really brought them together and allowed them to learn new things about each other." says Ashleigh.
"Kady's had encouragement from her mentor Alison, and overall just being part of the programme – doing the Duke of Edinburgh and the Talent Tasters – and speaking to new people has really brought her out of her shell. It's helped her work on her self-esteem, it's done a lot for her."
"I think having MCR in school has made a massive difference to the young people that are on the programme."