The organisations and people who have inspired the city of Glasgow have been shortlisted for the 2019 Inspiring City Awards organised by The Herald and Glasgow Chamber of Commerce.
With our award partners Arnold Clark, Cala Homes (West), COLAB, Developing the Young Workforce Glasgow, Glasgow Airport, Glasgow Caledonian University: Glasgow School for Business and Society, NHS Greater Glasgow and Clyde and Volunteer Glasgow, the awards provide a platform that celebrates the incredible talent and work going on across the city.
Now in their seventh year, the Inspiring City Awards illustrate that there is no shortage of examples of where Glaswegian businesses, institutions and charities have gone beyond the call of duty to contribute to Glasgow's prosperity and legacy with the 2019 awards receiving over 100 nominations across the 13 categories.
Each of the nominations have now been scrutinised by an expert panel of leaders who representing the many different sectors that make up our diverse city to identify the shortlisting of finalists to go forward to the awards ceremony on September 5, 2019.
Each of the finalists has demonstrated a broad range of work from across all the sectors from caring individuals, leading environmental campaigns, volunteer excellence, business leadership, investing in young people and achievements in arts.
Editor-in-Chief of the Herald Donald Martin, said: "We are delighted to once again organise and host these prestigious awards."
Richard Muir, Deputy Chief Executive of Glasgow Chamber of Commerce, commented on behalf of the judging panel said: "Glasgow never ceases to amaze me, with so many outstanding contributions from across the city. The impressive calibre of the 2019 entries demonstrate that Glasgow is a place whose citizens and businesses contribute freely to its culture and economy to the benefit of us all."
The winners will be announced at the 2019 Inspiring City Awards, which will take place at the Crowne Plaza in Glasgow and will be hosted by Amy Irons and David Farrell.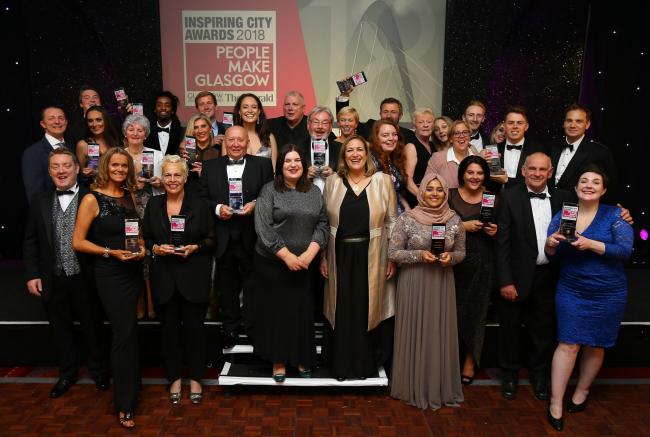 "The five finalists are the volunteering initiatives that stood out to the judges for their commitment to inclusion and for their positive impact on the city."
A spokesperson for Arnold Clark said: "Arnold Clark is delighted to be sponsoring the Young Person category at the Inspiring City Awards. Sir Arnold Clark was a young entrepreneur from the East End of Glasgow when he started the company with just one showroom in 1954.
"So it feels very fitting for us to sponsor this award, which celebrates and recognises the city's future business leaders."
A spokesperson for COLAB said: "At COLAB one of our founding principles is to nurture and support the arts scene in Glasgow and provide a platform for the creative community to work, exhibit and collaborate with other likeminded creatives.  We were really encouraged to see the quality of entries to the arts and culture category and would like to congratulate all of the amazing finalists.
"Glasgow is known for its rich and diverse arts and culture offering and we are delighted to be sponsoring this award which recognises those making a positive impact on arts in the city."
Category Finalists
Education Award
City of Glasgow College – City Phonics
Gordon McIntyre
Kibble
MCR Pathways
Industry & Young People Innovation Award – sponsored by Developing the Young Workforce Glasgow
Dell Technologies
Mackintosh at the Willow
MCR Pathways
McTaggart Construction
Multiplex – University of Glasgow