Danielle is a student studying to become a teacher. She is also an MCR mentor and has been working with her young person for seven months. Originally, she signed up to mentor because she thought it would give her good classroom experience, but after attending an info session she became passionate about the difference she could make on a young person and their future.
Since joining the programme, she has developed a strong bond with her mentee Sandra*. She took some time to tell us about their relationship.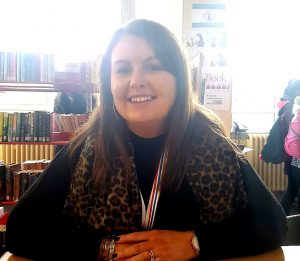 Why did you decide to become a mentor?
"I'm doing teaching at uni, and a friend of mine texted me saying, 'this would be really good for you, would you like to do it?' Initially I did it because, as I'm studying teaching, this would give me some school experience."
"You just don't think about what goes into people's school experience and how much they can get out of being helped."
What was it like getting ready to be a mentor?
"I went to an info session and I was sold! You just don't think about what goes into people's school experience and how much they can get out of being helped.
After the info session I was like '100% I need to do this.' You can make such a difference in someone's life. Then we got paired up pretty quickly. Already, the experience is honestly amazing. I really love it and both of us look forward to seeing each other."
What changes have you seen in the young person you mentor?
"At first, Sandra was super shy and quiet. Not awkward, but she just didn't want to give away too much. She got a bit uncomfortable in certain situations, played with her hair and stuff like that. Then, after meeting four or five, she just started coming out of her shell and now its just dead relaxed and comfortable.
There are no awkward silences, it's like talking to your friend. We both try to get out everything we want to say before the hour's done because it goes so quickly! Also, this year she's been a lot more focused. She's definitely doing well in her class tests and she's really good at Biology. She really seems to be performing better."
What have you gained from mentoring?
"I genuinely just look forward to coming in and seeing her. At first, my reasons for doing it were purely selfish, but as soon as I went to the info session it just clicked and it wasn't selfish anymore. I just enjoy her company, I enjoy seeing how she's doing. I don't know anyone else her age and I don't know anyone else in her situation. She's definitely prepared me for doing teaching. She's taught me a lot about what to expect, and what goes on from a pupils side of view – which isn't something I thought I would ever get.
It's funny how quickly you create a wee bond. We only met in August, but we already know so much about each other and we look forward to it every week."
What would you say to others about mentoring?
"100% do it. I put one of my friends in touch with it. She wants to be a teacher too and I said that this would be great for her.
Although I'm doing teaching, it's not a pupil/teacher relationship, it's more of a friendship. She knows that she can be as open and honest as she wants, and I think it's just nice to be there for someone. Just do it. You'll get so much out of it and you leave on a wee high because it's just about being nice and having a lovely chat."