The dedication and resilience of our mentors and young people has always been heartwarming, but this past year, more than ever, it is inspirational. With the help of our fabulous Pathways Coordinators, the strength of our mentor relationships keep shining through. However, there are sometimes stories we hear that stand out and make us so proud that we love to give them an extra special shout out!
To celebrate Random Acts of Kindness Day, we wanted to highlight some of the amazing moments our mentors and young people, from all over the country, have shared:
At Auchenharvie Academy, some pupils were given permission to take instruments home to progress their studies during lockdown. 🎶 This included one Young Ayrshire Talent pupil who was given a glockenspiel. While on the weekly call with their mentor, the young person plucked up the courage to play 3 songs they had learned! The Pathways Coordinator said that under normal circumstances in school, this wouldn't have happened, but learning from home and being on the call with their mentor had improved their confidence. A wonderful gesture! 😁
Even after only meeting once, it's possible to have a strong connection with a young person, and this was exactly the case at St Margaret Mary's Secondary School between mentor Louise and her mentee. Lockdown was introduced shortly after this first meeting, so the pair were unable to meet. Louise sent in a Harper Lee novel to the school for the young person to read while being stuck at home. The headteacher then delivered this personally to the pupil! We can't wait to see what awaits the pair in the next chapter of their relationship! 😃📖
At Alloa Academy, mentor Colin and his mentee have really enjoyed catching up virtually each week. They have both been thinking of ways to have fun on their calls. Most recently, Colin created an emoji quiz and the pair shared a lot of laughs over it. Despite their mentoring relationship being in its early stages, the young person can't wait to meet Colin virtually each week. Amazing to see! 👀😊
For Brian* at St John Ogilvie High School, he was struggling with chemistry. During his weekly meeting with his mentor, he explained that the subject wasn't his strong point and this struck home for the mentor as she experienced similar struggles at school. The mentor decided to look for ideas to help and bought her mentee a book to help explain things. 📕 Brian was so delighted with the gesture that he visited the Pathways Coordinator right after the meeting to share his excitement. Brian's mentor and kindness are high valued elements on his own periodic table! 🧪
Some of our mentors have been unable to see their young person during lockdown and they've been keeping in touch via email or messages through the Pathways Coordinator. When Virgil, who mentors at Inverurie Academy, Aberdeenshire, was able to see his mentee for the first time again after the first lockdown, their delight at seeing each other was incredible and emotional. After only being able to catch up via phone calls, they spent that meeting chatting for the full 50 minutes!👨‍👦
Virgil told us: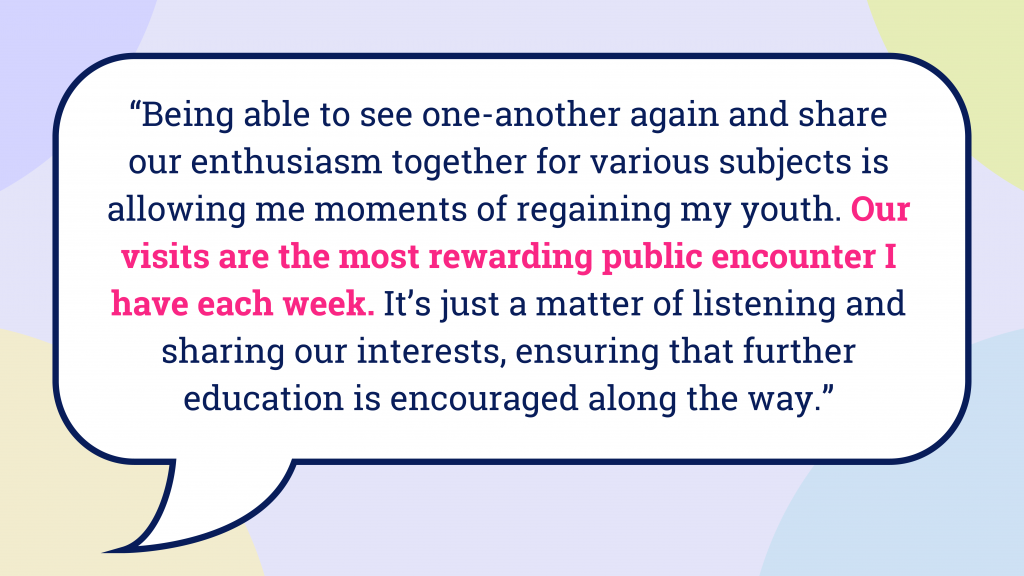 We're lucky enough to hear these kinds of Random Acts of Kindness every day!
For our mentoring relationships, giving young people the same opportunities as their peers is the most important thing. But hearing stories like these remind us that our mentoring relationships are just as important to the mentors as they are the young people. Thank YOU for all being so incredible. 💛
To experience a rewarding relationship that can have as big an impact on your life as it can the young person's, sign up today to become a mentor. It only takes one hour per week and you can #BetheBridge between a young person's talent and life opportunities.