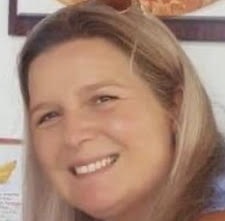 Our MCR Mentors support their young people in any way they can! This can come in many forms including: offering support through coursework, planning for the future or even just putting in place a routine in their life with the weekly meetings. 
However, for mentee, Chris* of Our Lady and St Patrick's High School in West Dunbartonshire, they needed someone to help bring them out of their shell and grow their confidence. They were then matched with Zoe, a mum of one who works in sales for a manufacturing company.
Zoe was inspired to get involved after experiencing a difficult health challenge with her daughter. She told us:
"I first thought about volunteering with children when my daughter spent some time in hospital. I found myself offering support to a child whose parents were not able to be with him and it made me realise that, although I found it very upsetting, it was also very rewarding being able to help in some way. I heard about MCR through my daughter's school and decided to get involved."
Soon after signing up, Zoe was matched with S3 pupil, Chris.
Chris says: "My first meeting with Zoe was good. We just started getting to know each other and got over the awkward stage pretty quickly. Once I met my mentor, I wanted her to be there to support me if ever needed and to be someone that I could talk to about most topics."
Zoe says: "I felt a bit nervous before my first meeting as I didn't really prepare. I thought it would be better to just take it naturally and look at it as meeting a new friend. I did worry whether or not my mentee would like me. I soon felt very fortunate that my mentee was quite chatty, we had been well matched!"
The pair had only just started meeting before Lockdown was announced and this had a huge impact on their budding relationship. Despite this, Chris and Zoe were able to communicate throughout the year.
Chris says: "Since lockdown began, me and my mentor have been having video calls and have been sending emails in order to stay in contact with each other.
"I would say still virtually meeting with my mentor during lockdown helped me as it still gave me someone to talk to and it at least made something feel a bit normal even if it was through a computer screen."
Zoe says: "Our relationship continued with emails and video calls, but I feel that nothing compares to a face-to-face meeting and I think that this will have slowed down the process of our relationship developing.
"I have no doubt that keeping in contact with Chris helped me through lockdown as, although not ideal, I still looked forward to our emails and video chats."
Despite everything that's happened over the past 9 months, Chris is still hugely positive on their mentoring experience, sharing:
"I think that I have benefited from having a mentor because I am now more confident and find it easier to speak to people. I'm also socialising with people I don't really know and this is something I had never done before meeting with my mentor."
Zoe also took some time to look back at her mentoring journey, and the impact it's had:
"It is a lovely feeling to be able to offer someone support and I really do hope I am making a little difference. My mentee is such a lovely young adult and I feel very privileged to have met them. I hope it has made me a better listener, but it is very new to me too so I'm sure I have a lot more to learn. The most enjoyable part is the face-to-face meetings, and I am really looking forward to being able to do them again."
A huge thank you to Chris and Zoe for sharing their experiences of mentoring, especially during these tough times. 
If you have felt inspired and wish to #BeTheBridge between a young person's talent and opportunities, become a mentor today!