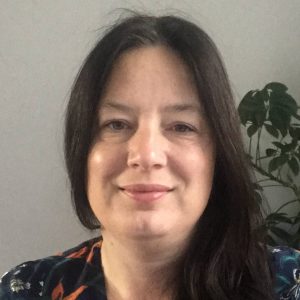 Over the past 12 months, mentoring relationships have gone through so much, but what remains is the power that one hour a week can have. Over Lockdown, meetings went from consistent face-to-face to conversing via phone, email or online calls. While mentoring has never had to be as diverse as it has this year, it's still making the difference.
Mentor, Lynne, and Craigroyston Community High School pupil, Lisa*, have been meeting for some time and had no idea that the world, and indeed their mentoring relationship, would go the way it has. Prior to meeting her mentor, Lisa's school life was not always the best. She explains:
"School was difficult because I got in trouble quite a lot for misbehaving in class. My attendance at one point was 30%, I really wasn't enjoying school. I was really frustrated with classes and school work. I was really worried, because my Mum was always getting phone calls home about my behaviour."
Lynne is a Biomedical Scientist and, after mentoring staff in her full-time job, she realised that she wanted to do more:
"I was at a meeting about workforce development, recruitment and education/career events. The chair mentioned MCR and I thought it sounded worthwhile and something I'd like to get involved in.
"I found the experience of kindness from people who believe you can do it to be invaluable. One of my lecturers at college was incredibly supportive and my current line manager is also very good at mentoring and supporting me to develop in my role and believe in myself."
After registering, Lynne was matched with Lisa! When it came to the pair's first meeting, they were both nervous, but soon grew comfortable in each other's company.
Lisa says: "It was a bit weird! It sometimes takes me a while to warm up to new people, even though I am really chatty I can be quite shy.
"I have always had an interest in midwifery, but I've never really been sure how to get there. It was good to have someone who had so much knowledge of paths I could take. When I met Lynne, I made an effort to come into school because I knew she would be there."
Lynne says: "Lisa's lovely, polite and has a cracking smile! She was quiet at first, but slowly came out of her shell. Now she's chatty, funny and is quietly confident in my ways.
"Lisa is more comfortable with me and leading on the conversations. She is very engaging at our sessions and we cover several topics. Her attendance has improved, she's doing well at school and has more determination to achieve her chosen career."
Since then, as Lynne explained, the pair are having a great time meeting up and Lynne is seeing a big difference in Lisa's attitude towards school and her future. However, when Lockdown came into effect in April, the pair had to resort to alternate methods of communicating when schools closed. After so long of meeting in-person, both Lisa and Lynne found this tough.
Lisa says: "Lockdown was really difficult. I have quite a big family, my mum has a lot of things on her plate and found it hard to find time for all of us. I stayed in my room all the time and this was so bad for me. I kept in touch with Lynne via email. It was really good but at the same time it was hard not getting to see her.
"Mentors still aren't allowed back in school yet and I can't wait to see Lynne!"
Lynne says: "We have been pen pals during lockdown. We have been emailing each other via our MCR Coordinator which has been lovely that we have been able to keep in touch. We were fortunate to have one outdoor meeting chaperoned by the MCR Coordinator and it was amazing to see Lisa to chat and giggle about things. It felt like how it was pre-COVID."
Despite the setbacks of 2020, Lisa feels much more confident about her school life since meeting Lynne. That one hour a week and keeping in contact throughout Lockdown has made the world of difference to Lisa. She says:
"I am so much more confident in speaking to people, and even speaking in front of groups. School is definitely more positive, my mentor has helped set me goals for attendance and my attendance is currently 97%. I used to feel a lot of anxiety around school and around coming to school."
Lynne has some words of wisdom to share with those who may be thinking about mentoring:
"It's incredibly rewarding in so many ways, a journey that you have to experience and a joy to watch someone blossom over time."
A huge thanks to both Lisa and Lynne for sharing their story with us. With all the trials and tribulations that 2020 has raised, it's great to hear that many mentoring relationships are still going strong, despite not being able to meet face-to-face.
Have you felt inspired by Lisa and Lynne's story? Sign up to #BeTheBridge today between a young person's talent and opportunities.