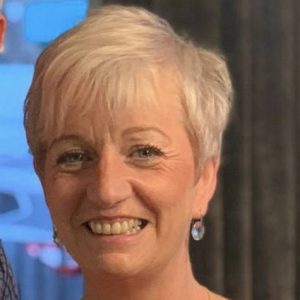 For many of our young people, some career routes seem out of reach and they just need someone to nudge them in the right direction to achieve all they can. This is exactly what happened when retired teacher Carol and Ashley*, a 4th year pupil at The Gordon Schools in Huntly, Aberdeenshire, were matched in 2019.
Prior to the pair meeting, Ashley wasn't enjoying her time at school and would often find any excuse to not be there, as she explains:
"Before I met with Carol, I would say that I was a troublemaker and was always looking for arguments, especially with teachers. I didn't really enjoy school and found it hard to stay in classes. My attendance wasn't the best as I kept going home."
Carol first heard of MCR Pathways while she was still working at the school. After retiring, she wanted to continue supporting  young people in any way she could. Carol says:
"I heard about MCR Pathways when it was first introduced at The Gordon Schools and I was asked to line manage the Pathways Coordinator. Prior to this, I had read about the success stories in Glasgow schools. Initially, I was involved as part of my remit in school but, after retiring, I wanted to stay part of what I believe is a crucial 'service/support' for some of our most vulnerable pupils."
Once the pair were matched and meeting, it was as if they had known each other for years!
Ashley says: "I really enjoyed my first meetings. I remember coming away feeling happy as she was kind, laid back, and put me at ease.
"After meeting Carol, I felt like I wanted someone to listen to me and give me help and support with different advice."
Carol says: "Ashley is bright with loads of potential, but some negative life experiences have influenced how she relates to others. We get on just grand! Always have. She, in some ways, is a mature young lady. I have to say, our first meetings went very well and I think we were looking forward to meeting regularly."
While the pair established a great relationship last year, Lockdown in 2020 was a bump in the road. However, the restrictions helped the pair get through tough times together.
Ashley says: "During lockdown, we kept in touch via phone calls. I found this beneficial as it broke up the weeks that I had nothing to do.

"She helped me with getting a laptop through the school and then also helped me with science work. I think that, overall, it brought us closer together."
Carol says: "I looked forward to speaking to Ashley during lockdown. She was a real tonic for me and was always responsive to my suggestions, but very honest if she knew she wouldn't do them. We had lots of laughs and tried to keep routine. I phoned her on the morning we would normally meet. I met her along with the Coordinator for a catch up recently and had a lovely lunch."
Despite not being able to see each other for long periods of the year, Ashley and Carol's relationship remains strong and Ashley is especially optimistic for her future career:
"I have enjoyed having a positive role model outwith my family who I can turn to and trust. I see her as a 'nana' figure who keeps me on the right path. I plan to leave school and study Agriculture at SRUC Aberdeen. I have most recently just passed my tractor course through LANTRA and I also get released from school to study rural skills at Turiff Academy for one day a week."
Carol has seen a big difference in her mentee from when she first began mentoring to now. If any potential mentors are thinking of signing up, Carol has some great insight:
"I think many adults would enjoy mentoring once they got into it. Like anything, it is the unknown that stops people putting themselves forward. This is especially the case in the rural north east! Our MCR Coordinators work really hard at communicating and bringing others on board and then supporting them in their new role.
"I think being a mentor gives you insight into the challenges involved for our young people today but, more importantly, mentoring gives you the opportunity to help, advise and support these vulnerable young people. Sometimes all they want is another adult to listen to them."
A huge thank you to both Ashley and Carol for sharing their experiences of mentoring and Lockdown with us. If you wish to #BeTheBridge between a young person's talent and possibilities, sign up using the button below.