Written by Catriona Stewart
FOR Awish Ul Haq and his mentor John Campbell, ditching the commute to school and moving online meant they could expand their sessions together from 50 minutes to over an hour.
And it was vital, John said, to keep the relationship consistent despite all the changes in the outside world.
John, 35, and Awish, 15, have been paired for 18 months and bonded over their shared passion for football… despite supporting Glasgow's two main rival teams.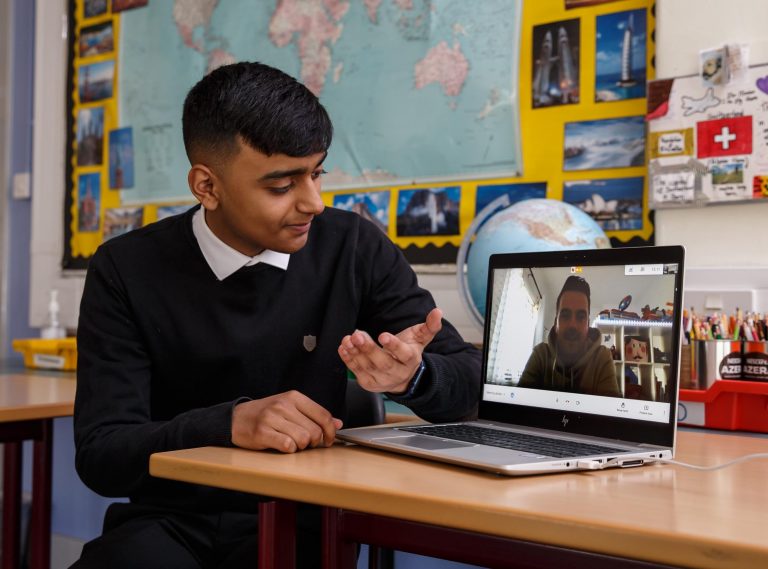 Photo by Colin Mearns
Mentor John, who works for Glasgow City Council, said mentoring with MCR was something he always wanted to do.
He said: "The thought of being able to help someone and share some of my life experiences with them was something that really motivated me.
"For a young person to accept a strange face in and have open and honest conversation with them, that takes a bit of time.
"That Eureka moment for me when I realised I was making a difference was when he asked me personal questions about myself, and remembered details about me, that was when I realised the barriers had broken down.
"It just felt natural because during lockdown you were on a video call with family and friends.
"Having the chance to speak to Awish on a weekly basis has helped secure and build that rapport."
Awish, in S4 at Bellahouston Academy, has had the chance to take part in various extra curricular activities such as the Duke of Edinburgh Award through MCR.
He's hoping to go on to take up an apprenticeship after fifth year and said he truly values the support from John.
Awish said: "We get along quite well and our personalities are similar.
"He's helped me work out what I want to do – I want to go into an apprenticeship for a trade and John has helped me have a back up plan in case that doesn't work out.
"I would never have expected myself to feel so comfortable around someone but it's been excellent."
Photo by Colin Mearns
The teenager also said he hopes to keep in touch with his mentor even after leaving school.
When asked about continuing contact, John said: "I'm a little taken aback because that's the first I've heard so that makes me feel proud that I've been doing things that have helped him so far.
"I'm more than happy to have conversations with Awish to see how we can do that because it will be really interesting to see how he develops – and it would be great at the weekends to go and watch him in person play football."