MENTORING charity MCR Pathways is looking for 50 volunteer mentors to support pupils across two Inverclyde secondary schools.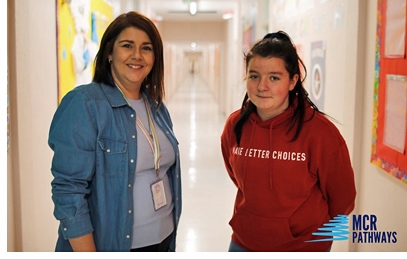 Mentors share an hour each week, during the school term, with a young person to increase their confidence, overcome challenges and focus on their education.
This supports the pupils towards a positive post-school destination such as college, university or employment.
Mentors are matched with a young person based on shared experiences, hobbies, career aspirations, and personality traits.
Mentoring begins for nominated pupils from Third Year and supports the increasing number of vulnerable young people facing an uncertain future.
Full training and ongoing support is provided and no qualifications are required.
Inverclyde Council and MCR Pathways provide the life-changing programme at Inverclyde Academy and Notre Dame High School.
Nicola Smith, programme manager of MCR Pathways, said: "We are thrilled to see the impact that the Young Talent programme has had on young people across Inverclyde since it was launched here earlier in the year.
"The difference a one-hour meeting makes to a young person is incredible. For many of our mentors and mentees, it's the best hour of their week."
Fay Gingell, chief executive of MCR Pathways, said: "The Inverclyde community has really embraced the programme and it's great to see people reaping the rewards.
"Not only are the futures of our young people improved, but mentors also gain enhanced listening skills, improved coaching skills and a friend for life.
"If you can spare one hour per week to help a young person or if you're in an organisation who could encourage staff to get involved, we'd love to hear from you."