"Research has shown that the best leaders are those who can empathise with people. The best way that you can really learn to empathise with people is to work with others in a non-judgmental way." David Hillier, Dean of Strathclyde Business School
MCR Pathways is a Scottish charity supporting care-experienced young people to achieve positive futures through education. They recruit and train volunteer mentors to meet with a young person in school for an hour a week. 
Founded in 2007, MCR Pathways are now support more than 2000 young people across Scotland. Before mentoring, where only 48% of care-experienced pupils went on to a positive destination after school, now 86% of mentored pupils do. 
Besides making a huge difference to the young people involved, becoming an MCR mentor can have a hugely positive impact on your organisation.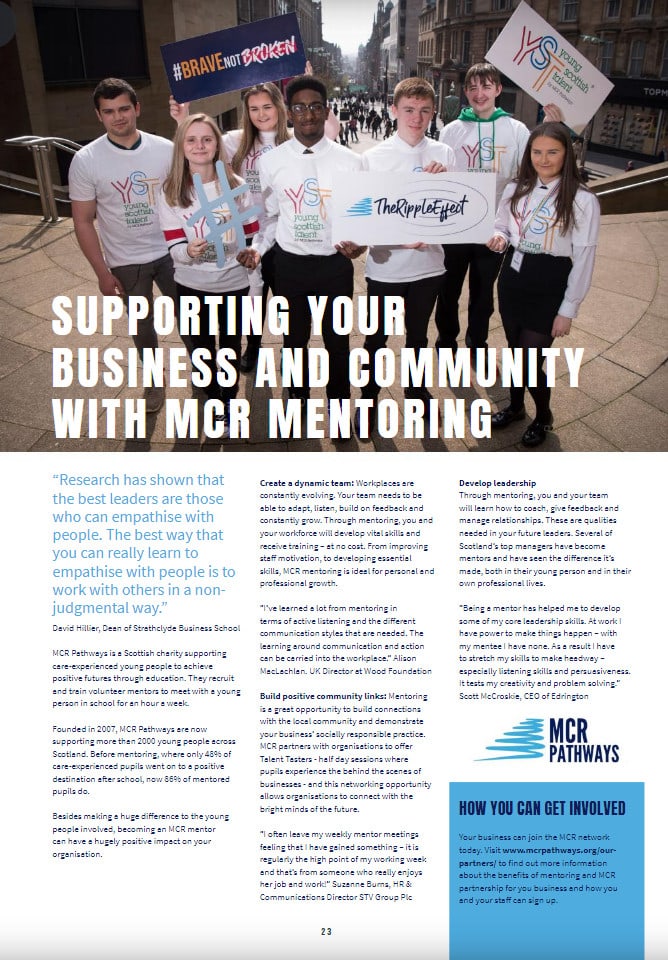 Create a dynamic team
Workplaces are constantly evolving. Your team needs to be able to adapt, listen, build on feedback and constantly grow. Through mentoring, you and your workforce will develop vital skills and receive training – at no cost. From improving staff motivation, to developing essential skills, MCR mentoring is ideal for personal and professional growth.
"I've learned a lot from mentoring in terms of active listening and the different communication styles that are needed. The learning around communication and action can be carried into the workplace." Alison MacLachlan. UK Director at Wood Foundation
Build positive community links
Mentoring is a great opportunity to build connections with the local community and demonstrate your business' socially responsible practice. MCR partners with organisations to offer Talent Tasters – half day sessions where pupils experience the behind the scenes of businesses – and this networking opportunity allows organisations to connect with the bright minds of the future. 
"I often leave my weekly mentor meetings feeling that I have gained something – it is regularly the high point of my working week and that's from someone who really enjoys her job and work!" Suzanne Burns, HR & Communications Director STV Group Plc
Develop leadership
Through mentoring, you and your team will learn how to coach, give feedback and manage relationships. These are qualities needed in your future leaders. Several of Scotland's top managers have become mentors and have seen the difference it's made, both in their young person and in their own professional lives.
"Being a mentor has helped me to develop some of my core leadership skills. At work I have power to make things happen – with my mentee I have none. As a result I have to stretch my skills to make headway – especially listening skills and persuasiveness. It tests my creativity and problem solving." Scott McCroskie, CEO of Edrington
How you can get involved
Your business can join the MCR network today. Visit https://mcrpathways.org/our-partners/ to find out more information about the benefits of mentoring and MCR partnership for you business and how you and your staff can sign up.