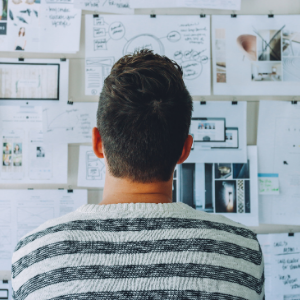 For many of our young people, they have an idea of where they would like to go or what they would like to do in life, but they sometimes need that extra bit of support or belief that they can achieve it. Kris*, who attends Inverurie Academy in Aberdeenshire, had a good idea of where he wanted to go, but wasn't sure how to achieve it:
"I seen myself with a rough idea of what I wanted to do in the future. I originally had job ideas which lead from having microbiology in mind but now I have a more computer-based job idea."
To fulfil his full potential and give him the confidence and direction he needed, Kris participates in the Young Aberdeenshire Talent programme and was matched with retired oil and gas company manager, Jim.
Jim wanted to become a mentor to give his time helping those who may be in unfortunate situations. Having the experience of having his own children and grandchildren, he felt as though this was something that would be rewarding.
After Kris and Jim first met, it was clear to Jim that Kris was a little shy, but the conversation started flowing once the initial hurdle was cleared, as they both explain:
Kris says: "It was a little awkward and I was quiet but we started chatting quite quickly. Jim felt friendly and easy to talk to."
Jim Says: "Kris was slightly shy and a bit nervous, but obviously quite knowledgeable and willing to express himself. "
After initially being matched early in 2019, the pair built a great bond, one where Kris was able to express himself and get support from Jim to pursue the career he hoped to. Jim explains:
"During our time meeting, he has matured into a fine young adult. He willingly exchanges views on a wide variety of subjects and I think we understand quite a bit about each other's family life, background and aspirations."
However, when COVID and lockdown occurred in 2020, the pair were unable to meet face-to-face and instead had to resort to meeting from afar:
Kris says: "It hasn't really affected the mentoring as we had catch ups on email and had occasional phone calls over quarantine. It made lockdown slightly easier as it allowed me to talk to someone else about what was going on and made going back to school easier knowing we'd still be meeting."
Jim says: "We kept in touch initially by exchanging short notes just to let each other know how we were getting on and pass comment on how the lockdown was affecting our daily lives. Later we had telephone conversations that were a bit more like the normal face-to-face meetings."
With their relationship having come so far and even endured a global pandemic, Kris and Jim's mentoring sessions are just as beneficial now as they ever were. With that in mind, the pair have some words for anyone thinking about getting involved in the YST programme:
Kris says: "The benefit was that I can get guidance in careers and input on school. This has helped me greatly on my plans for the future. I would recommend it as I've had a very positive experience from it and it has helped me greatly with how I feel about school."
Jim says: "It's enjoyable, fulfilling, doesn't take up very much time, and helps a young person through a crucial part of their life. I just enjoy meeting with a young person outside my normal family environment. It's given me new skills such as learning to listen more and give support."
A huge thank you to Kris and Jim for sharing their mentoring story. It's great to hear that even throughout tough times, mentoring relationships can flourish! 
Have you felt motivated after reading about Kris and Jim's mentoring relationship? You can #BeTheBridge today between a young person's talent and opportunities in life. All it takes is one hour a week!