MCR's young people have been writing letters to St Mungo, the patron Saint of Glasgow. They're sharing the letters they've written to show the people of Glasgow the difference mentoring makes to a young person. Because, with a bit of help and encouragement, they can achieve.
"MCR makes me feel perfect and beautiful. They have supported me through my homeless experience and made me see how resilient I can be. I can honestly say that if it wasn't for all the support which MCR and my fellow ambassadors have given me, I wouldn't still be in school and heading towards passing my highers."
Using the symbolism of St Mungo's miracles – the bird that never flew, the tree that never grew, the bell that never rang and the fish that never swam, we're sharing Julie's letter.
You can support inspiring young people like Julie in 2018. You can help them swim upstream, when they feel like they're swimming against the tide.
In January, we'll launch our #GiveAnHour campaign. One hour a week makes the difference to our city's care experienced and disadvantaged young people. You don't need any special qualifications. You just have to want to help.
Julie's Letter to St Mungo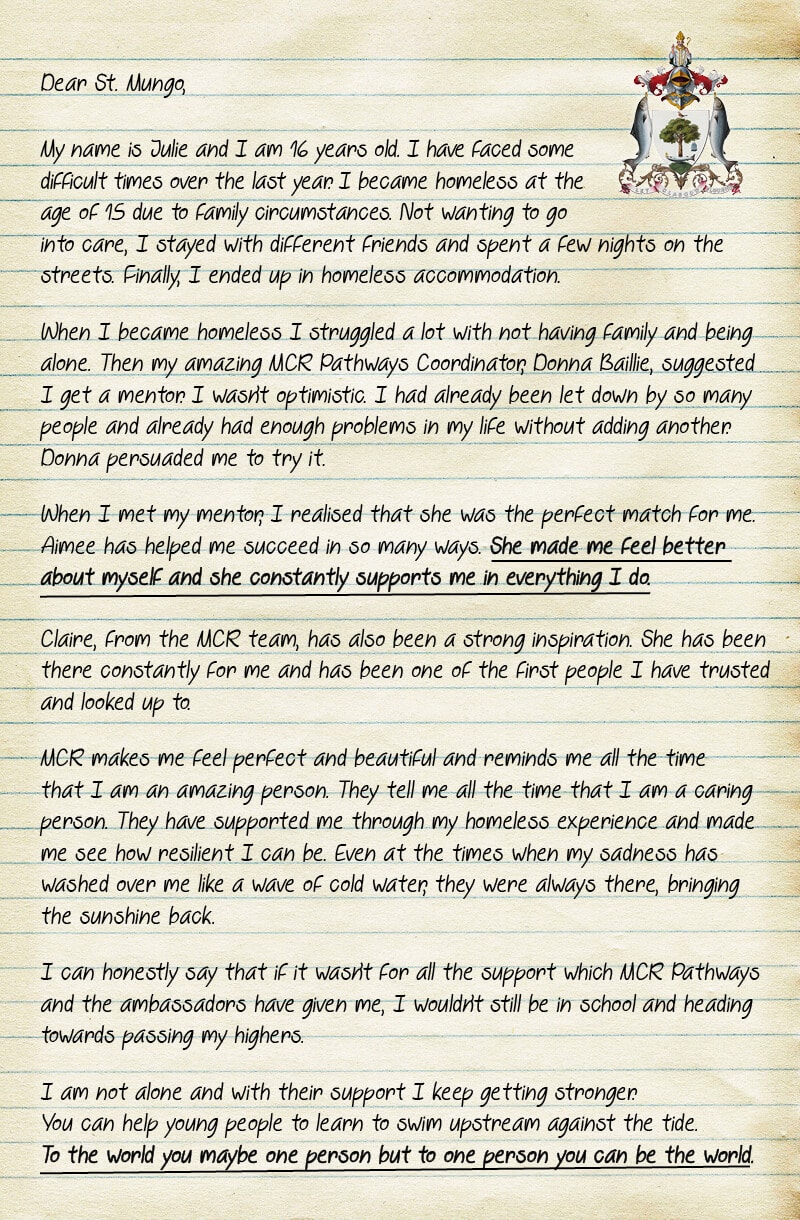 #GiveAnHour
In January we'll formerly launch our 2018 #GiveAnHour campaign. As Julie's letter shows, our young people have so much talent and potential. They just need a positive, encouraging Glaswegian who can help them flourish.
MCR's volunteer mentors come from all walks of life. Individuals who dedicate one hour a week to their young person.
To learn how you can make a life-changing difference to a disadvantaged young person in Glasgow, learn more about becoming a mentor.
Can you support MCR in other ways? We're looking for volunteer support across a range of projects and activities. Here are our volunteering opportunities.
Can your organisation help? To get involved in our Talent Taster programme, alongside our partners such as Glasgow Life and The Herald, simply GET INVOLVED! We can't wait to work with you to offer our city's most disadvantaged a gateway to an expanding menu of opportunities and tasters of university, college and employment.