It was an emotional time pupils across the Young Scottish Talent programme as the class of 2021 finished school after a turbulent final year. Many were able to have their last in-school meeting with their mentor before leaving school to college, university or employment.
While the past year has brought many obstacles to overcome, our young people, mentors and staff have been phenomenal in ensuring that mentoring relationships continue to flourish. We've gathered some of the farewell stories, from around the country, which have filled our hearts with joy over these past few months. 💛
Please enjoy and if you have any stories of your own you wish to share, please do so either by email or via Facebook, Twitter & Instagram.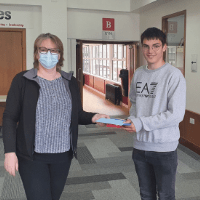 Aberdeenshire
Susan, and her mentee, Andrew*, have been meeting at Fraserburgh Academy for around 18 months and recently had their last meeting before Andrew heads off to college! From face to face weekly meetings, to catch ups over zoom during lockdown, then back to in-person meetings the pair have formed a lovely bond.
At their final meeting, Susan handed Andrew a birthday present along with a thank you note to him for allowing her to be his mentor.😊
The school's Pathways Coordinator, Emma, says: "It's been lovely to see them together and witness the positive impact Susan has had on Andrew. I feel privileged to have seen this relationship grow from strength to strength."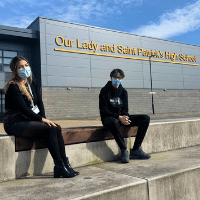 West Dunbartonshire
Charlotte*, who recently left Our Lady & St Patrick's High to study Child Care at college, reflected fondly upon her time having a mentor. She told us:
"I really enjoyed having a mentor, it was so good to have someone to talk to and to give me advice. My mentor was so lovely and we have become friends. If any other young person was unsure about getting a mentor, I would say 'just give it a go', as it helped me in so many ways."
It's wonderful to hear how our young people benefit from mentoring! 😁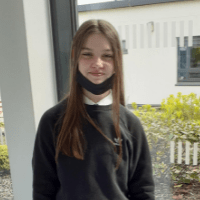 Perth & Kinross
Future PE Teacher *Lisa recently left St John's RC Academy, to study Sport & Fitness! 
She has really appreciated her short time with the programme since MCR came to the region late last year, and told us:
"YPKT was really good. It has helped because if I didn't have you, I'd probably be crying right now not ready to leave. Don't forget about me!"
We wont forget about you, Lisa. The Pathways Coordinators and Next Steps team are always on-hand to offer support. Good luck from us! 🙌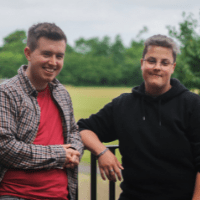 Edinburgh
Scott*, who recently left school after completing 6th year at Liberton High School, had been supported over the past year by his mentor, Jamie. In this time, the pair have established an amazing friendship that they will continue after mentoring.
Jamie said: "I think we'll definitely keep in touch. It's became much more of a friendship and I hope that we'll be pals forever now."
We can't wait to hear how your friendship grows, Scott and Jamie! 👍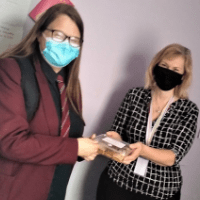 Aberdeenshire
Mentor, Vivian, and young person, Paula*, recently had their first face-to-face meeting at Peterhead Academy since lockdown began. It was an emotional one however, as it would be their last meeting in-school before Paula leaves for university.
The pair are planning to keep in contact though to update each other on wherever life may take them.
Both Vivian and Paula have noticed the turnaround in Paula's confidence since they began meeting and the difference has been incredible. They both feel like Paula is ready to give University everything she's got! 🤜🤛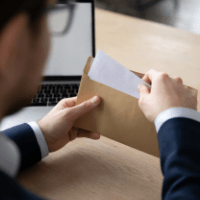 Glasgow
Michael, a mentor at Drumchapel High School since 2019, has never missed a meeting with his young person, Alicia*, and the pair recently had their last-ever session. Just before they did though, something happened that shows you just how powerful mentoring is and made us all smile at team MCR!
Michael was waiting for Alicia to arrive for their final meeting, and got chatting with Alan*, another young person in the programme. Alan is hoping to be matched with a male mentor who shares some of his interests, but a suitable match has yet to be found. Michael and Alan got talking about space and deep sea diving, particularly how oxygen becomes poisonous to humans the deeper they dive. As the pair's conversation came to a close, Michael apologised that he couldn't be his mentor next year as he has recently moved to Edinburgh.
A week later, Coordinator Lorna received a package for Alan, with this note:
Dear Lorna,
Please could you pass this book to Alan, who you introduced me to last week. I have enclosed a note with the book for Alan by way of explanation. I was really taken with his interest in Science and Biology and hope this book might encourage his interest and his reading.
Best Wishes to you,
Michael
Michael also included a note for Alan, explaining how impressed he was by him and how sorry he was that he couldn't be his mentor as he believed they would get on really well. To further Alan's interest in science, he enclosed a book on the Deep Sea and reassured Alan that he was in good hands with Lorna to find him a good mentor.
What an incredible gesture after an already emotional day at Drumchapel High School!
It just goes to show you the impact a short conversation can have on two people. If someone can do that with just 5 minutes, imagine what you can do with 60 each week!
Have you been inspired to become a mentor after reading some of these stories from those leaving the programme? Sign up today to #BeTheBridge between a young person's talent and possibilities in life!