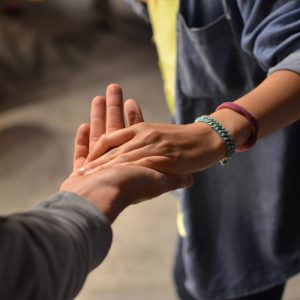 Many of our mentors decide to sign up to the programme after reflecting on their own experiences at school. Many have told us they want to give a young person the extra support they wished they had received. 
Jane, an IT Trainer from South Lanarkshire, is one such mentor who didn't have the best experience at school. She says:
"I did not like school at all , it seemed to me that any individuality was not appreciated. This experience put me off further education and I went straight into work on leaving as soon as possible. I felt I did much better in the world of work and then went on to further education on a part-time basis when I was much older."
Gail*, an S5 pupil from Stonelaw High School in Rutherglen, was in a similar situation to Jane. Gail explains:
"For some time, I didn't enjoy school. I was very nervous about the day-to-day work and this often led me to not attending classes." 
After hearing of MCR Pathways through her work, South Lanarkshire Council at the time, Jane decided to sign up to support a young person. She was matched with Gail and the pair found their groove straight away, even if Gail wasn't confident about how she came across.
Gail says: "I was nervous going into the first meeting as I didn't know what to expect. At that time, I felt as though I was shy and quiet."
Jane says: "When I first met Gail, she was talkative, not what I expected! I was pleased that it was an easy-going meeting which was in no way awkward."
After meeting each other for a little while, the pair weren't able to meet face-to-face due to COVID-19 restrictions. While this was tough for both parties, they found some sort of routine and made the most of it.
Gail says: "During lockdown we could only talk through video chat. I prefer seeing her face-to-face but it was good to see her every week."
Jane says: "We managed to catch up on video calls. This kept our connection going, although it was hard to keep positive through lockdown."
Despite it being tough to remain positive, Jane helped Gail stay on-track and there were even some highlights during lockdown, which brought a smile to Gail's face:
"During lockdown it was my birthday and Jane asked my PC, Helen, to send me a Birthday present of false nails that her daughter makes. This really cheered me up!
"I even considered not returning to school but Jane encouraged me to come back and try it. She also helped me to speak to my mum about how I was feeling."
Both Gail and Jane have gained so much through mentoring. Gail is on-track to study make-up artistry once she leaves school and Jane has also gotten so much from her mentoring relationship. She explains:
"I enjoy seeing Gail as she is always glad to see me and makes me feel valued. I have learned to listen a lot better as it's not my best quality. I enjoy listening to the chat from someone who has got a totally different experience of life from me and this has opened my eyes to some things I might not otherwise hear about."
We would like to thank both Gail and Jane for providing us with their story. It's great to hear that even through lockdown, relationships can flourish!
If you've been inspired to #BeTheBridge for a young person, sign up to become a mentor below.