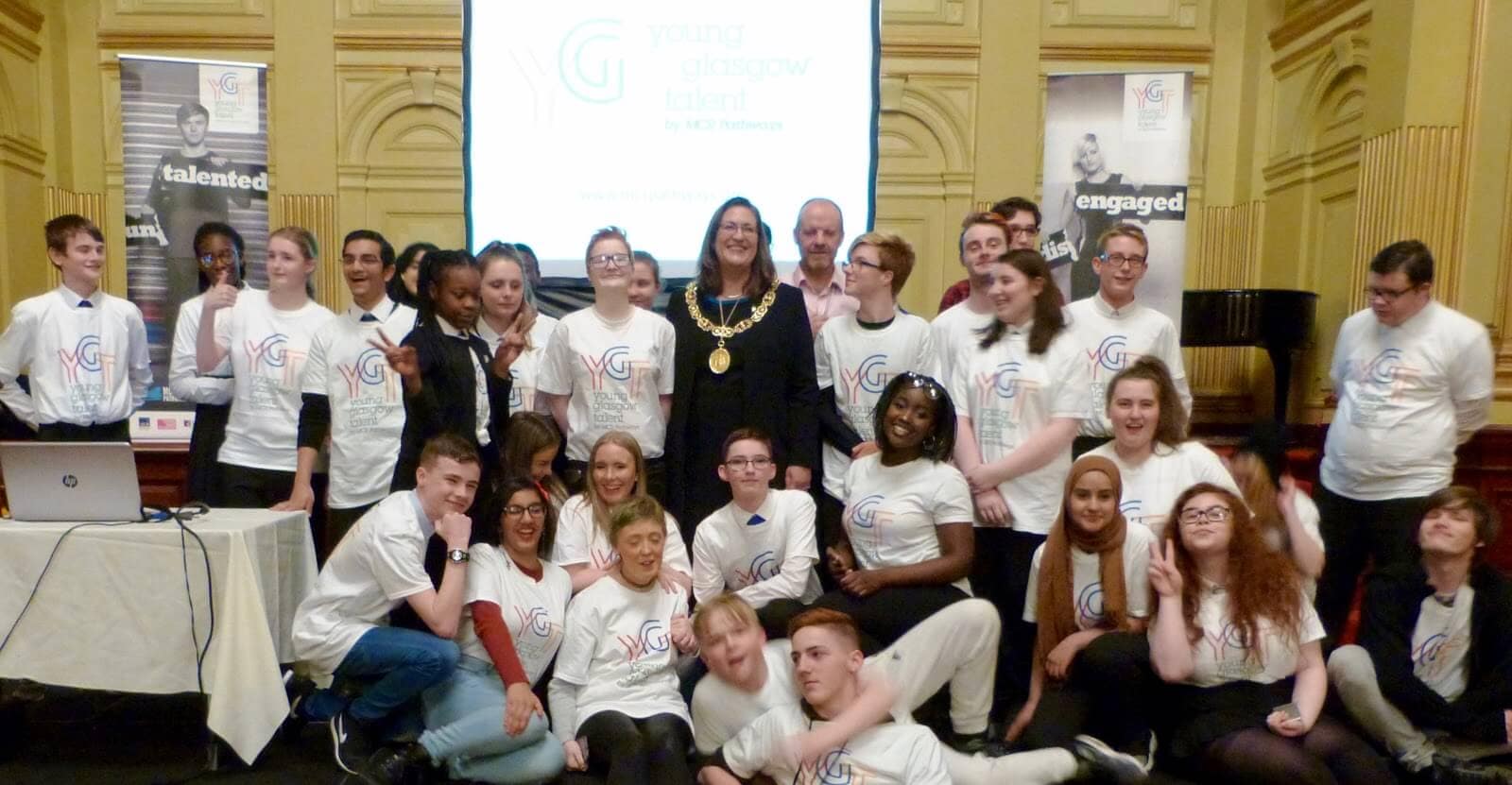 On 23rd November, MCR's young people took over Glasgow's City Chambers. The event celebrated MCR Founder and CEO Iain MacRitchie's receipt of the city's coveted St Mungo award, while honoring the patron Saint of Glasgow.
Our young people shared the stories of their achievements through adversity using the symbolism of St Mungo's miracles – the bird that never flew, the tree that never grew, the bell that never rang and the fish that never swam – which all represent Glasgow flourishing.
MCR young person Sairah opened the evening. Leading the way for her fellow ambassadors.
Our city motto is Let Glasgow Flourish. The oxford dictionary definition of Flourish is: "to grow or develop in a healthy or vigorous way, especially as the result of a particularly congenial environment."

MCR is the living, breathing example of this. Through mentoring, us young people are given the space and support to grow and develop. What makes this programme work is the people of Glasgow, our mentors and the organisations who give their time. They create this unique congenial environment because they care. They care that every young person in this city is treated equally, given the same access to opportunities to allow them find, grow and use their talents. We are not defined or restricted by our circumstances.

Every step of the journey we are on, we are joined by people inspired to reach out their helping hand to young people because they believe in us, our talents and our potential.

We use the term family a lot. Families come in all shapes and sizes, and the MCR family continues to grow. It's not separate from the school community but part of it.

The Glasgow coat of arms is inspired by the life of St. Mungo: the bird that never flew; the tree that never grew; the bell that never rang; and the fish that never swam. These are based on miracles that St. Mungo performed…
Over the next few weeks we'll share the letters to St Mungo our young MCR ambassadors wrote and presented at the City Chambers event.
Letters from Sylvia, Bryan and Megan tell their very real experiences of being a 'looked after' young person in Glasgow. They share the difference their mentor made to them and their MCR journey so far.
We share our young people's stories as we prepare to launch our 2018 mentor and volunteer recruitment campaign. We want to encourage more Glaswegians, from all backgrounds and walks of life, to get involved. Our young people need just one hour a week of your time.
To learn how you can make a life-changing difference to a disadvantaged young person in Glasgow, learn more about becoming a mentor.
Can you support MCR in other ways? We're looking for volunteer support across a range of projects and activities. Here are our volunteering opportunities.
Can your organisation help? To become involved in our Talent Taster programme, alongside our partners such as Glasgow Life and The Herald, simply GET INVOLVED! We can't wait to work with you to offer our city's most disadvantaged a gateway to an expanding menu of opportunities and tasters of university, college and employment.
We're always looking for new mentors to reach all the young people coming on board with the programme. Help us spread the word by letting your friends and family know how worthwhile mentoring can be using the 'share' buttons below!