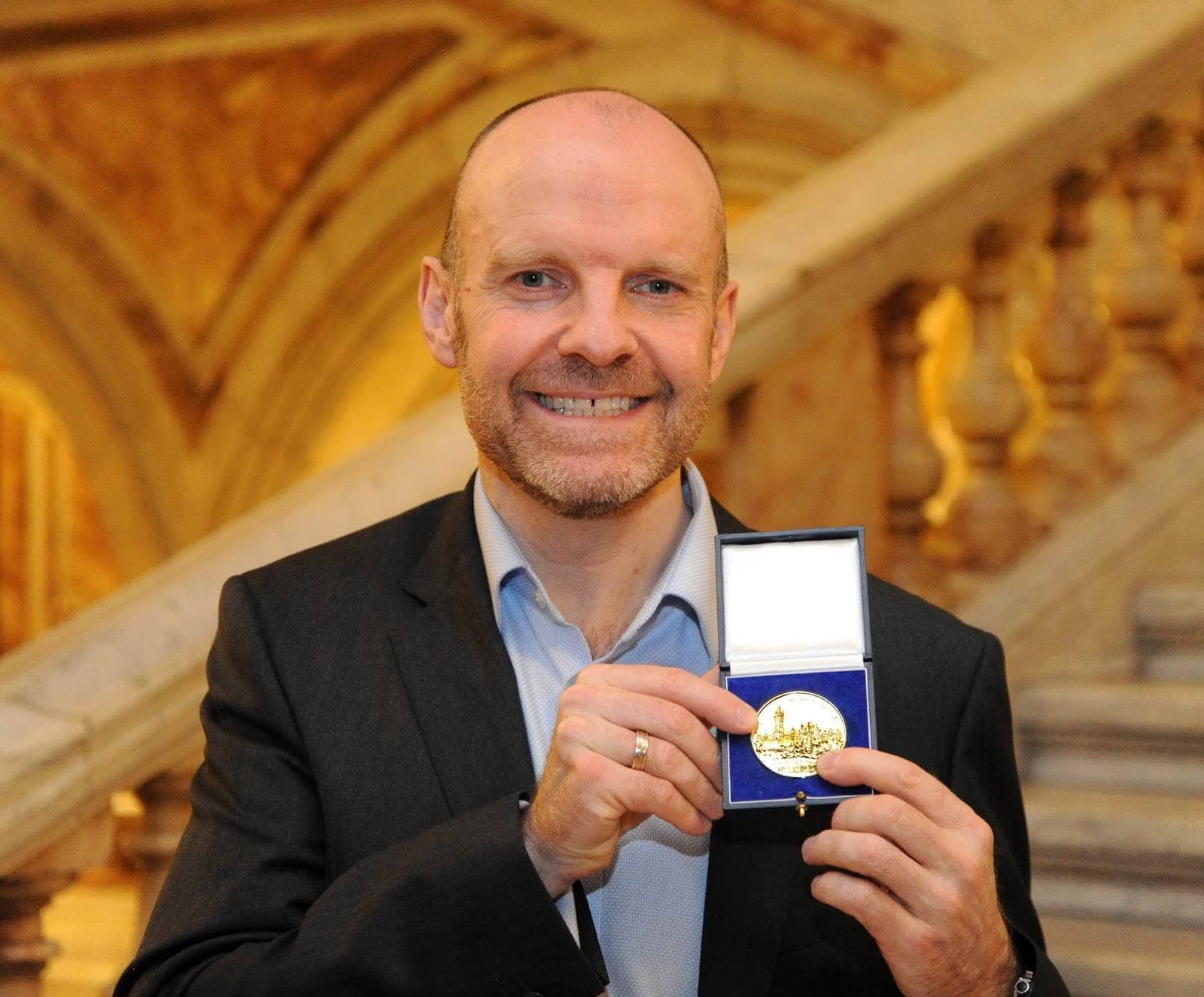 This evening, Thursday 23rd November, MCR Pathways will take over Glasgow's City Chambers. It's an evening of celebration which follows MCR Founder and CEO Iain MacRitchie being announced as the recipient of the city's coveted St Mungo award.
Our young people will share their stories of overcoming disadvantage to be all they can be. While Iain will emphasise that "we all have a role to help overcome the challenge of attainment and disadvantage":
"Young people can tell us what they need to close the attainment gap – we just need to listen and spend some quality time with them. Mentoring is the best way to do this.

I believe our greatest social challenge is ensuring that all young people get the opportunity and support to realise their full potential. The sad fact is that many do not. Especially those in and on the edges of the care system. These young people have suffered decades of consistently poor outcomes, through no fault of their own. The only way to break the mould and ensure our most disadvantaged young people are defined by their potential – and never their circumstances – is through the education system.

I am convinced that there is a way to bridge every talent to the large number of opportunities that exist within and beyond education. Through our mentoring programme, we now support over 900 young people experiencing challenges way beyond their years. It is emotional and humbling but is also an enriching experience for all involved.

At Glasgow City Chambers this evening we honour Glasgow's patron saint, St Mungo, and celebrate 10 years of MCR Pathways. I've had the huge privilege of receiving a St Mungo Medal from the City, on behalf of an inspired team, and I've discovered that parallels can be drawn between the community established by St Mungo and the work of MCR Pathways.

This event will see our young people tell the stories of their achievements through adversity using the symbolism of St Mungo's miracles – the bird that never flew, the tree that never grew, the bell that never rang and the fish that never swam – which represent Glasgow flourishing. Glasgow was built upon community and family ideals, which I believe has defined the DNA of the city and its people.

One-to-one relationship-based mentoring within our education system is our modern equivalent of this DNA. Our programme is about helping our young people discover their capabilities, creating opportunities and helping them develop aspirations to realise their full potential. There is clearly a will within the city to be part of this, our community of volunteer mentors show that. We have just established the way.

We have developed a simple but highly effective approach to help give young people the consistent support to make the most of the education system. It's not a surprise that almost 80% of care-experienced young people leave school at the first opportunity. This is nothing to do with the quality of our education system, which I think is strong, it is about the young person's ability to engage with it.

With school-based mentoring, our most disadvantaged young people progressing from school to college/university or employment has grown from 49% to 81%. The radical difference in these outcomes is simply down to a caring adult listening, building a relationship of trust and helping that young person find, grow and use their talent. At the same time mentors and their organisations are experiencing a rich return in skills and personal development.

MCR has a national ambition, which can be made real with the commitment of individuals and organisations across the country. We started with one thought which sparked an idea – we want every young person in our country to flourish. With only 359 secondary schools in Scotland, we can collectively transform the prospects for the next generation of Scots and at the same time transform our country. There is a way and I know it's just connecting it with the will. People do Make Glasgow and will Make Scotland.

If you think you can make a difference, please join the MCR Pathways movement by visiting mcrpathways.org"
Our city's young people desperately need a mentor to make a huge difference to their confidence, educational outcomes and future life chances. You'll guide disadvantaged, but utterly deserving and ambitious, young people through their education. Find out more about Becoming A Mentor.
Can your organisation help? To become involved in our Talent Taster programme, alongside our partners such as Glasgow Life and The Herald, simply GET INVOLVED! We can't wait to work with you to offer our city's most disadvantaged a gateway to an expanding menu of opportunities and tasters of university, college and employment.
We're always looking for new mentors to reach all the young people coming on board with the programme. Help us spread the word by letting your friends and family know how worthwhile mentoring can be using the 'share' buttons below!