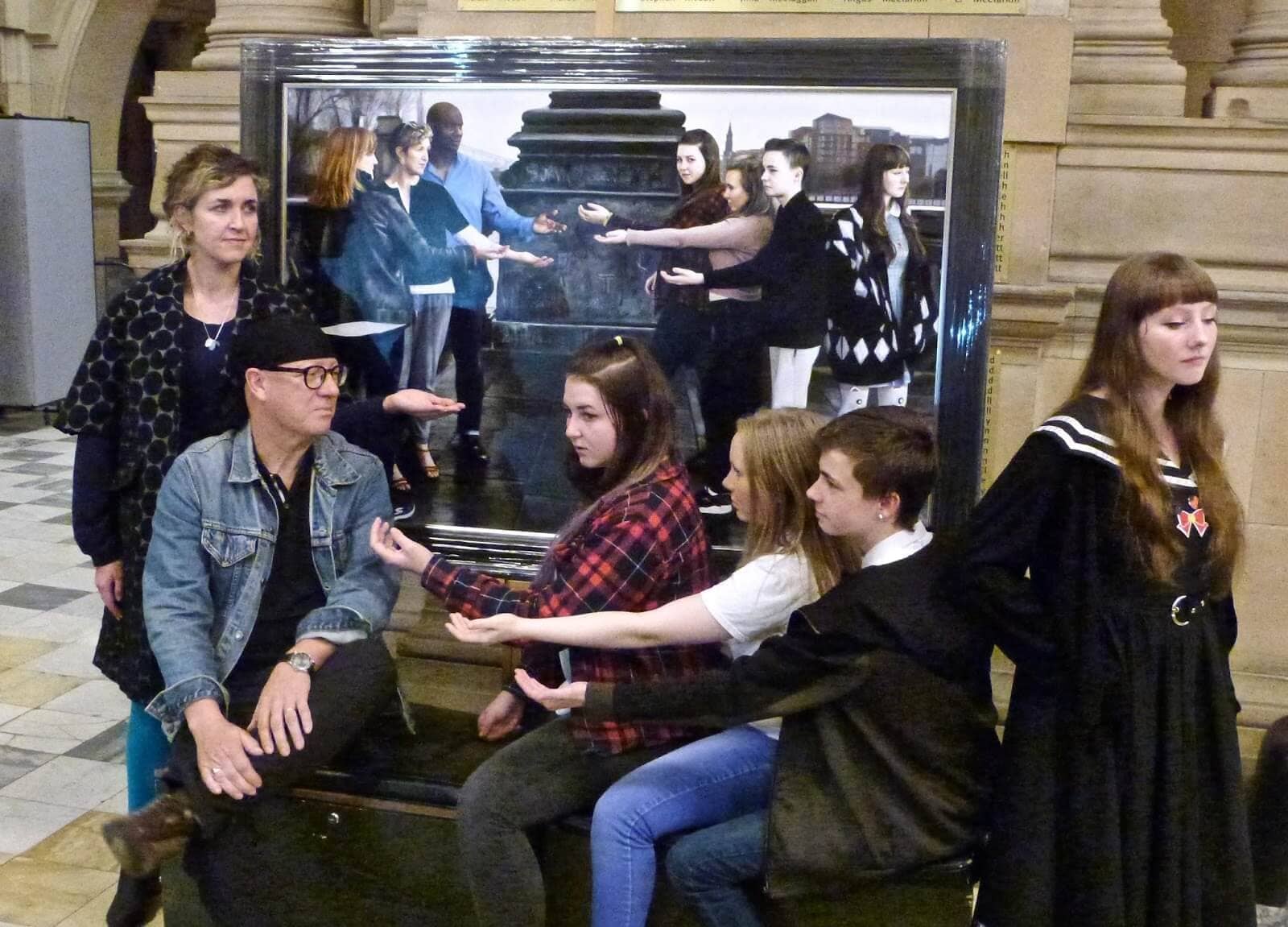 "I thoroughly enjoyed the event. The highlights included seeing these young people finding their voice and showing their beautiful selves. I was already looking forward to becoming a mentor but this evening was inspirational," Marie, soon-to-be MCR mentor
Last night, MCR's Young Glasgow Talent young people hosted an evening of creative performances and exhibitions at Glasgow's Kelvingrove Art Gallery and Museum. The entire evening was led by our young artists and performers, who introduced and delivered films, interviews and musical sets.
The theme of the evening was "relationships". It was a real celebration of the role of MCR's mentors and how they support the city's disadvantaged youngsters.
At the centre of the event was the grand unveiling of a piece by renowned Scottish artist Gerard M. Burns, which he created in collaboration with YGT young artists.
Burns had taken the youngsters through the artistic process in creating a painting and together they've produced an inspiring artwork. This piece complements the style of the "Bridge to the Future" painting unveiled last October at the Kelvingrove, but focuses more on the vital role of the MCR mentor.
Victor John Charles is one of the MCR mentors featured in the piece:
"I think it was a brilliant event. Anything that promotes mentoring, especially in Glasgow, is just so promising. It was really nice to see so many people turn up. A lot of people don't understand what mentoring actually involves. When I tell people I mentor they tend to say "mentoring…what's that, how can that have an affect?" But I say not only does it benefit the young person, but you end up bettering yourself. It's not a one way thing, it's a two way thing. I mean, I have 4 children 25, 22, 15 and 11 and I'm still learning, so I'd encourage you to do it."
Gerard was delighted to support MCR yet again, and unveil his latest piece to last night's supporters:
"I would hope first of all that people who come to enjoy this painting should be a wee bit confused, maybe because it's not an obvious painting. Anybody coming to this painting who didn't know what the context was, what the narrative was…they would be quite intrigued because it's not an obvious piece. But I think that if they spent some time looking at the background, it should begin to give them some idea. If you want people to engage with an idea, first of all you've got to catch their attention. If you don't do that, everything else is wasted. So what this is designed to do is initially catch people's attention, once you've got that, you've got half a chance that you can begin to tease out their interpretations"
300 mentors, partners and supporters joined our evening of art and creative performances at the Kelvingrove
The grand unveiling was followed by an amazing performance from YGT's own Mya Brown. Mya sang her original song "firefly" and covered "Don't Stop Believing" as a positive message to her fellow Glaswegians!
"The evening was amazing. The young people were amazing and exceptionally talented. It made me feel privileged to be part of this community", Lesley, Mentor.
"The young people did a really great job and the support they receive from MCR and their mentors is very evident. The event made me feel inspired and valued about my own mentor relationship," Joanna, Mentor.
Thank you to all of our young performers who delivered an incredible evening. Huge thanks to all of our mentors, partners and supporters who joined us as well!
We have many more inspiring young people asking for MCR's help. They need mentors to make a huge difference to their confidence, educational outcomes and future life chances. Can you help them? Find out more about becoming a mentor.
Can your organisation help? To become involved in our Talent Taster programme, alongside our partners, simply GET INVOLVED!! We can't wait to work with you to offer our city's most needy a gateway to an expanding menu of opportunities and tasters of university, college and employment.
We're always looking for new mentors to reach all the new young people who are coming on board with the programme. Help us spread the word by letting your friends and family know how worthwhile mentoring can be!